Surprise Simple Garden Birthday Party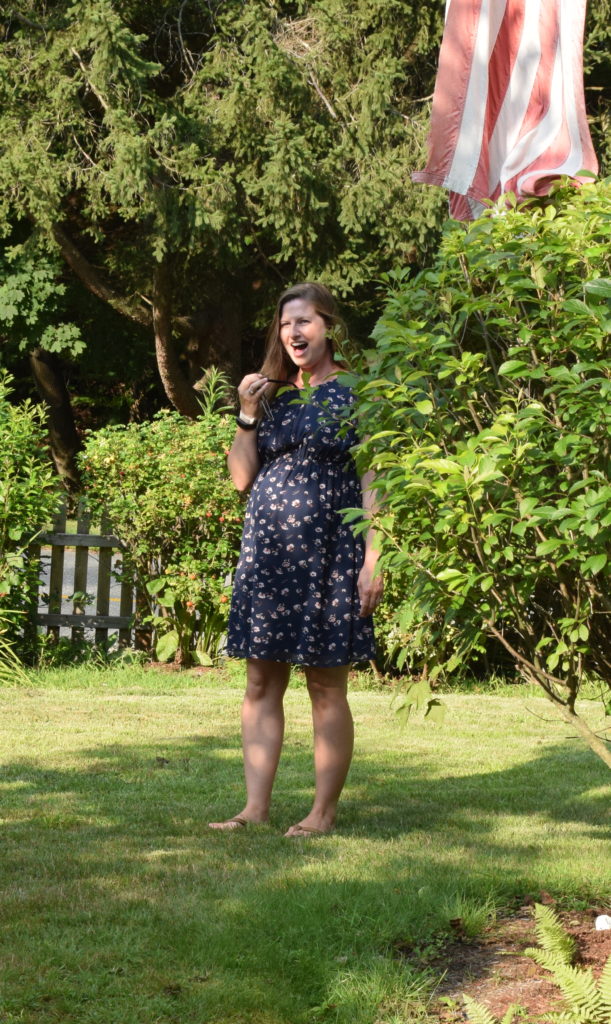 This garden party was to celebrate a dear friend turning 30.  My co-hosts; her husband and a friend, planned a day of relaxing with pedicures and a movie that ended with this surprise party. We thought it would be a wonderful way to celebrate this expecting mom who loves to garden.  I was so glad we were able to surprise her.  The party was held in the beautiful garden of my friend and cohost. This made a picturesque setting for an outdoor summer soiree for this lovely lady.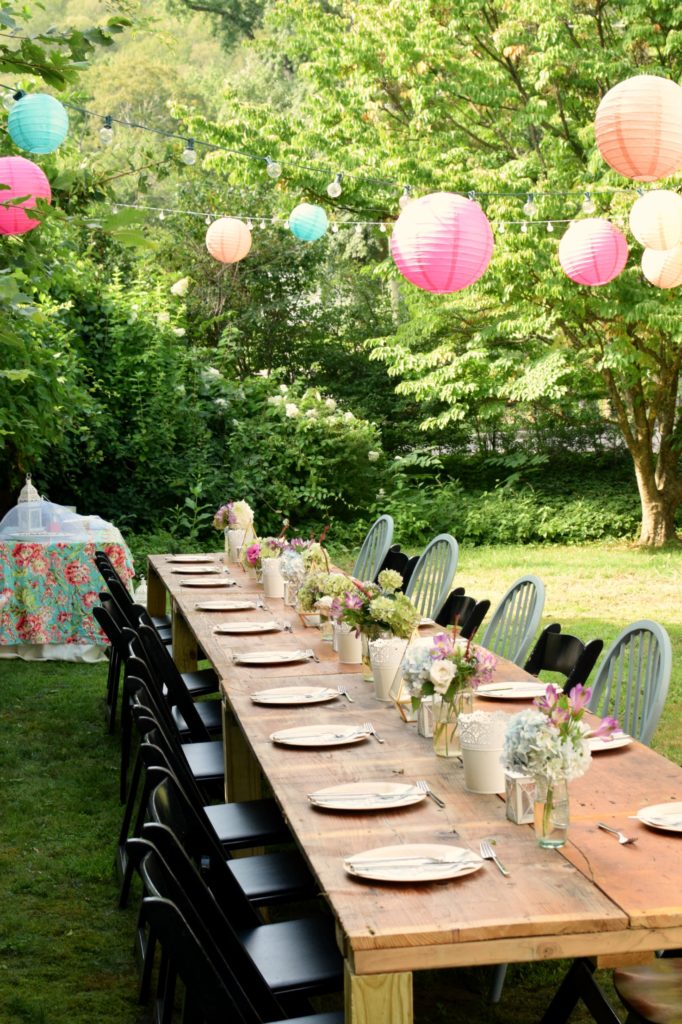 Garden Party Decorations
Lanterns and Lights
These paper lanterns add funny happy colors. I bought them inexpensively on Amazon and can be folded and reused for other gatherings.  There were already some plugged in string lights that werehung in the yard. Then I added some of my battery string string lights, also from Amazon, for additional light. I wanted there to be more lanterns over the table beyond what was hanging on the lights. To do this, I used thread tied in between the trees to give additional strands. I suggest wrapping the string once or twice around the hook of the lantern. This will keep the wind from blowing them out of place and down the line.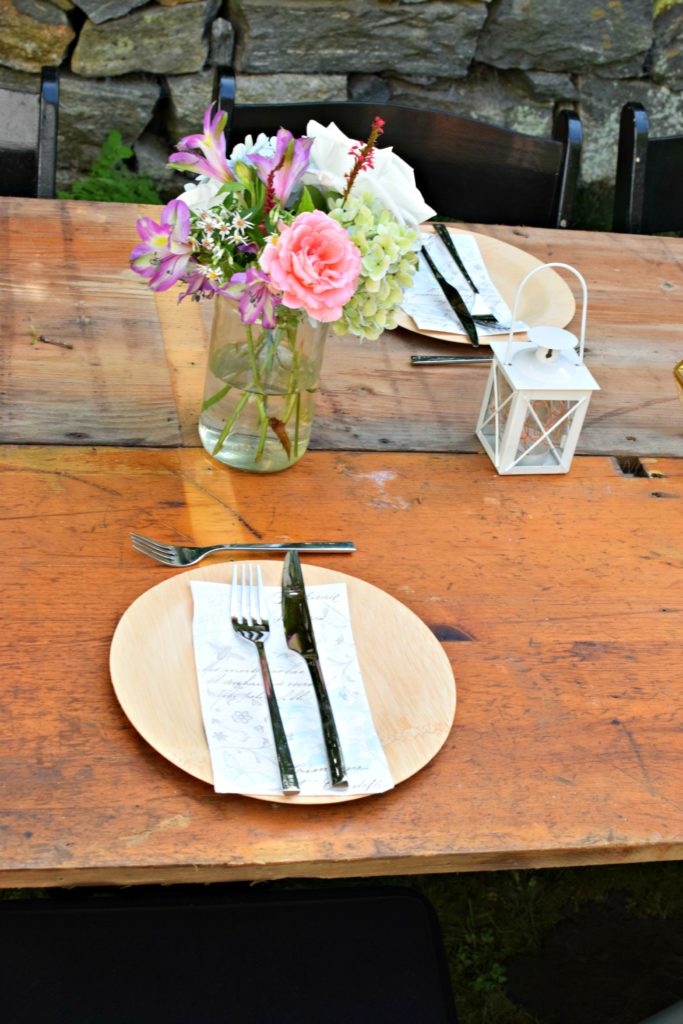 The Table
These rustic style tables I thought would be perfect for a garden party. They were made by my very sweet husband from recycled wood that was a loft in our garage. He made them into folding tables by attaching the legs with folding hinges from Amazon.  I kept the table bare to showcase the texture and imperfections of the wood. I then placed jars of flowers, and lanterns throughout to give color and soft light. The white lanterns are filled with a short strand of  fairy string lights  to vary up the candles. In addition, I used some lace style IKEA pots as lanterns as well. Lastly these gold geometric lanterns added a metallic modern touch. We tried to keep clean up to a minimum but didn't want to use paper plates. We landed on these bamboo eco friendly and biodegradable wooden plates that fit the bill nicely. I also purchased these printed paper guest towels napkins for easy clean up but still keep things pretty. To finish I used real flatware to hold down napkins and plates from the wind but are popped in the dishwasher.

Food
The food table had a beautiful tablecloth that I made with fabric from
. This Amy Butler fabric tied in with many of the of the colors on the lanterns and fits in so well for a garden party.
We tried to keep things easy with most items that were made in advance. Appetizers of guacamole, dips, tomato caprese and shrimp cocktail were out to nibble. Dinner was comprised of buttery lobster rolls and burgers with sides like potatoes, cold pasta and a green salad. My favorite part is of course dessert! Amazing cheese cake and brownie bites looked beautiful and were delicious. We did of course somehow forget candles and made it work with skewers.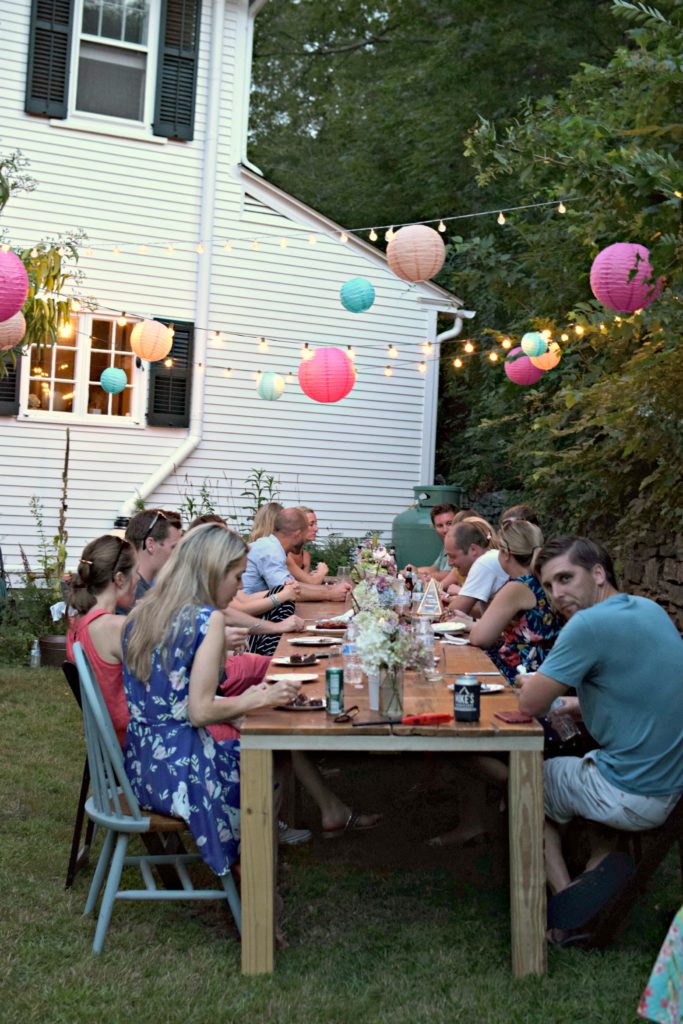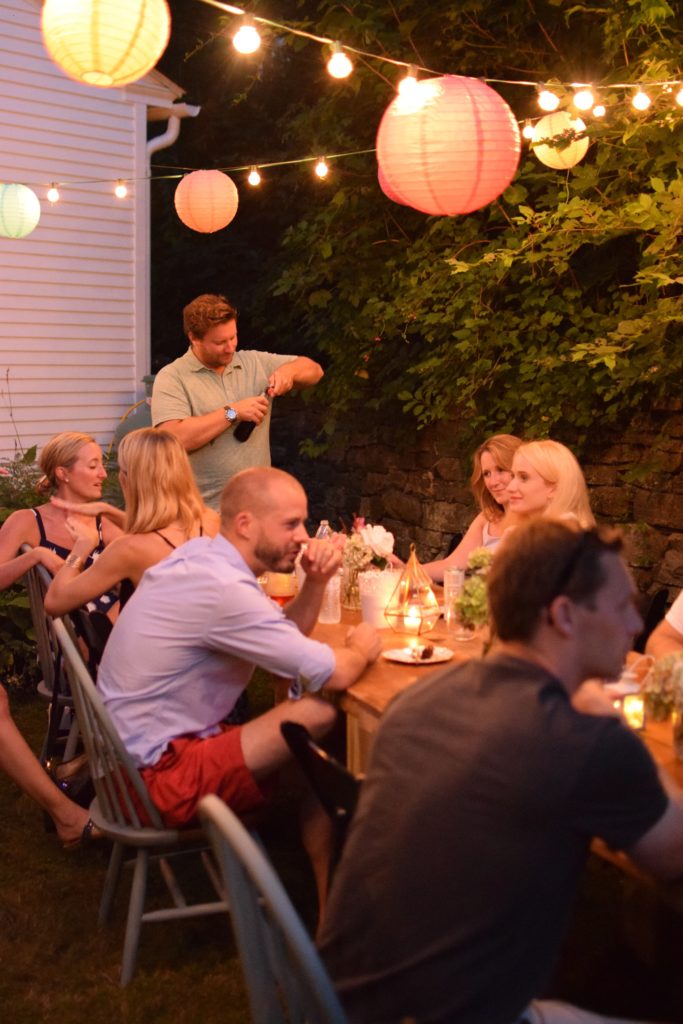 Overall, I think everyone had a great time at this birthday garden party. I enjoyed co-hosting with friends so we could make it all come together to celebrate. I hope everyone gets to enjoy cocktails on the patio and dinner outside with friends before the weather cools down too much. For an idea on another great outdoor party check out this pop up dinner party in a park the next party coming as I officially switch into fall with Oktoberfest!
-Ashley