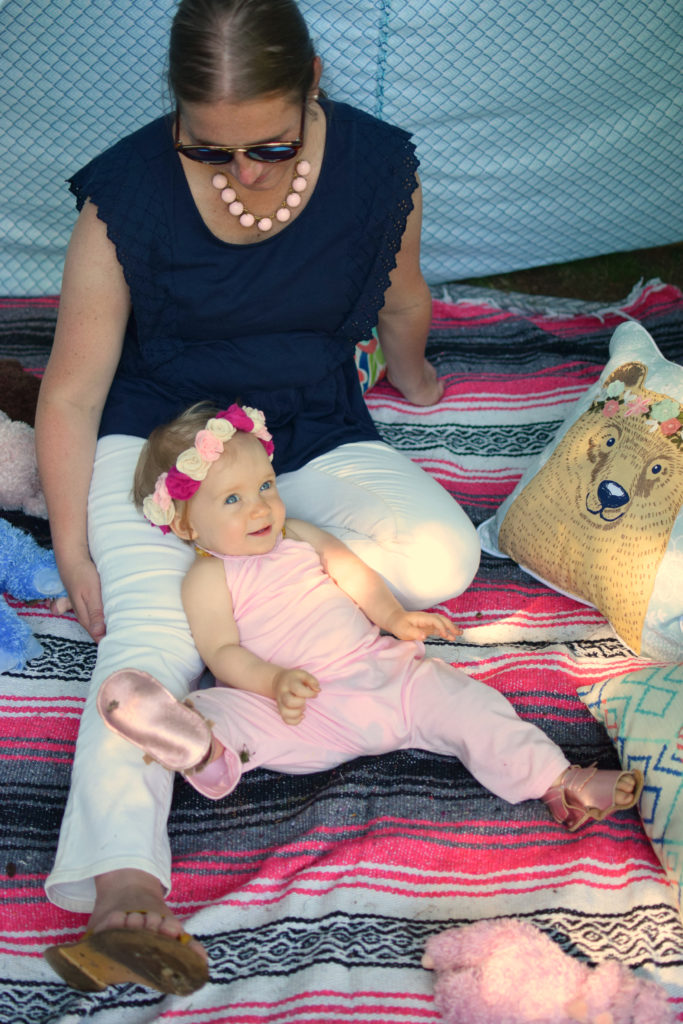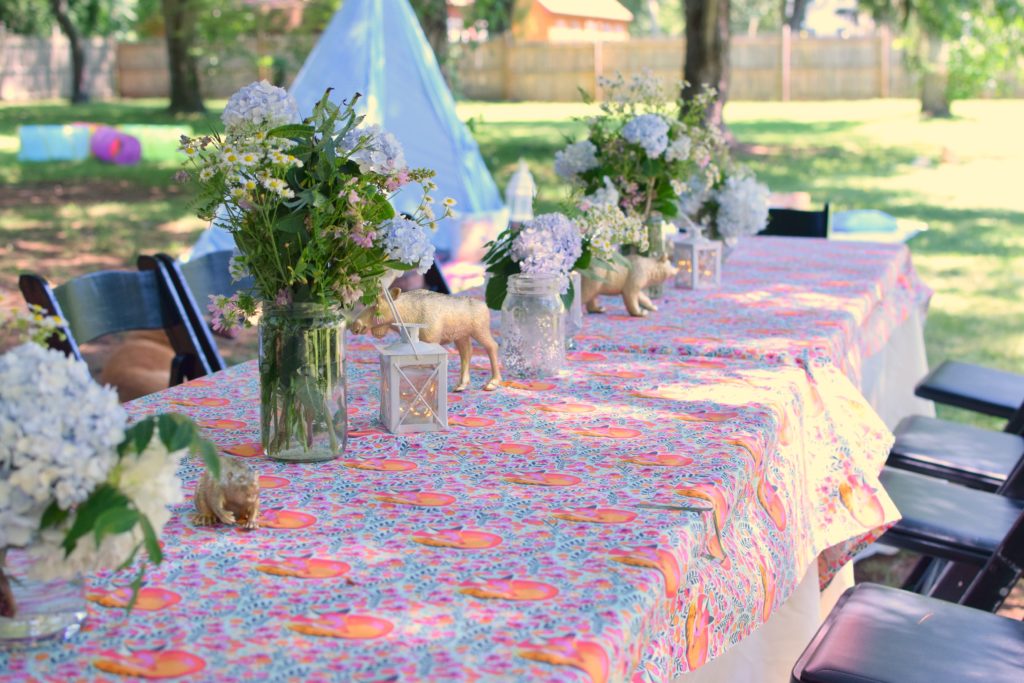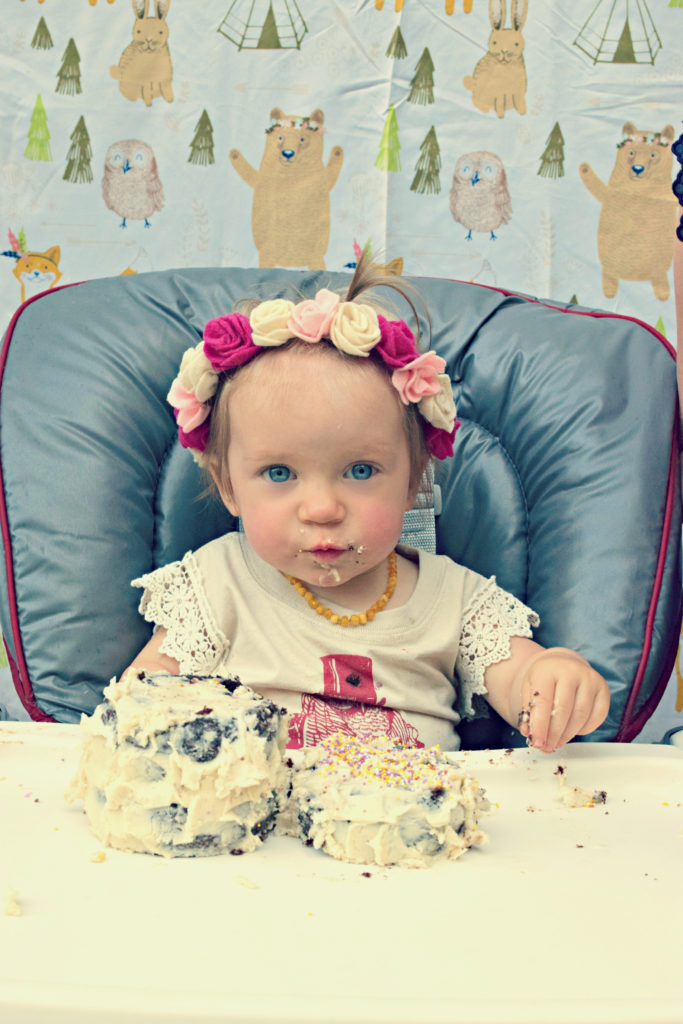 Woodland Birthday Party Theme, One is Wonderful
This Woodland Birthday Party was for the perfect first birthday party theme for my beautiful niece Delphine. I adore the decorations, they are so sweet and would a great baby shower theme too. I loved putting everything together. A Fun, feminine color scheme with oranges, pinks and touches of turquoise and gold. Girly and soft without being overly loud. It all started when I was shopping at Target and came across a sheet set with woodland animals in flower crowns (as you can see from the photo backdrop). Instantly I fell in love with the idea of it being a party theme. A boho, nature vibe that was sophisticated while still being really kid friendly. It could be done as a boys theme too if you take away the pink the the flower crowns, but I adore the flowery soft touches that make you think of an open field.
Decorations
Woodland Garland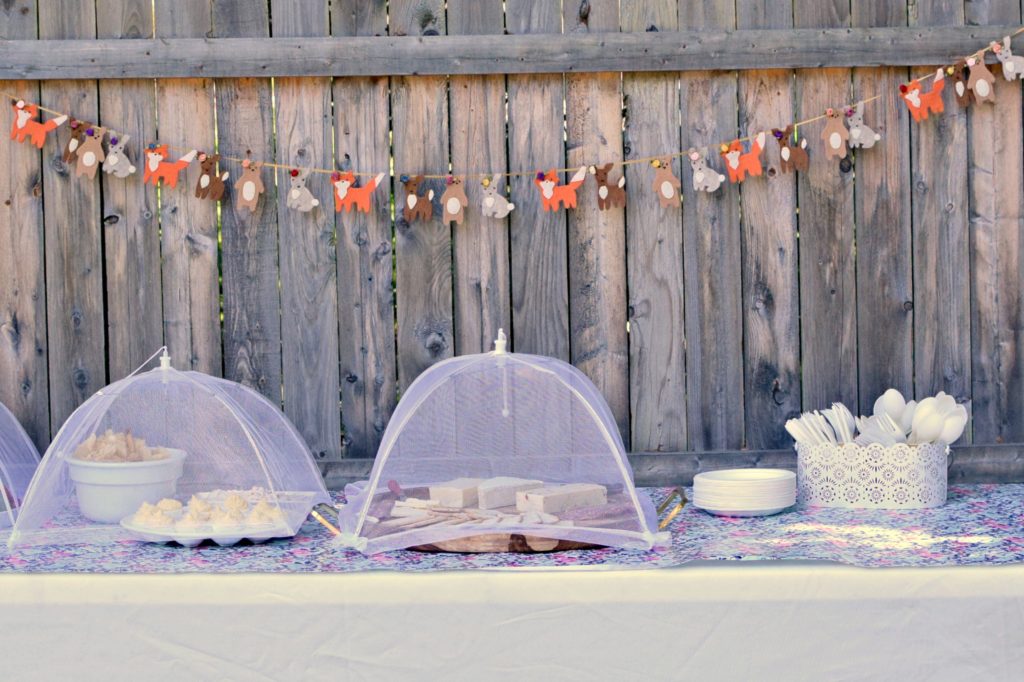 This woodland garland I made just for this woodland birthday party by hand from felt with little store bought ribbon roses. I drew my own template for each animal cutting out on a fold piece of felt with the animals ears on the fold. Then by hand I sewed the white felt touches and flowers on the front side, using black thread for the eyes and nose. Next the front and backs of the animals were glued together with craft glue making sure not to go all the way to the top where the ears are. By leaving this space at the top without glue I was able to easily string all the animals with a thin gold ribbon.
The Table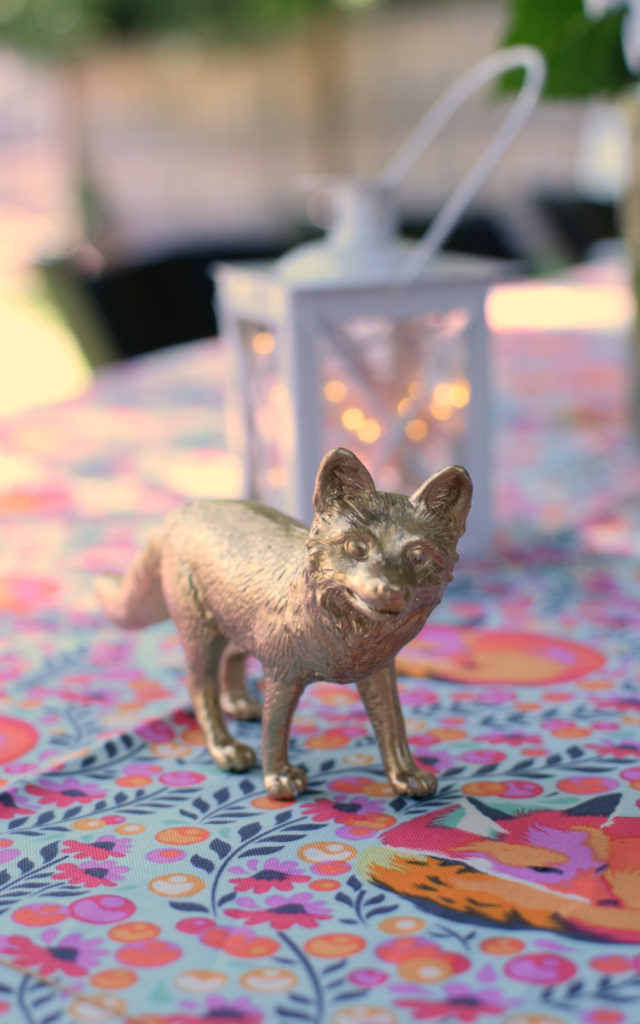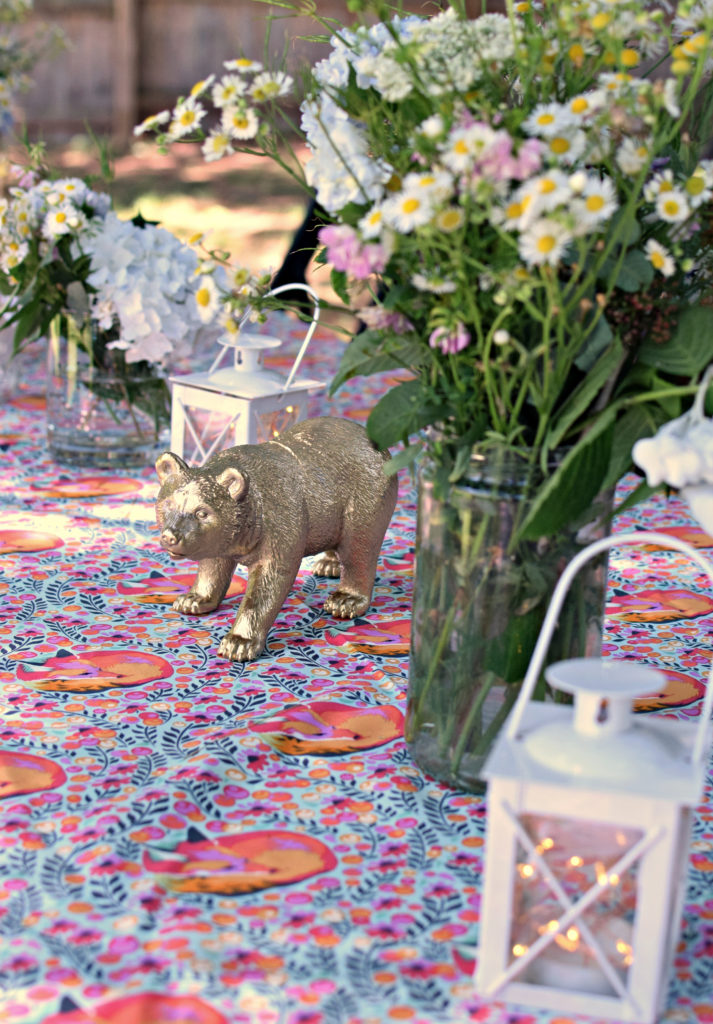 The table decor was simple  for this woodland birthday party with flowers, lanterns, and gilded woodland animals. The tablecloth was made with this fox fabric that I am OBSESSED with from  
.  Its fun, summery, and the color scheme is bright and happy. I cannot get enough of it! I actually made napkins from this fabric that were used in my 30th Boho /Festival Party. Which is basically a gown up version of this theme.  When I first bought this fabric a year ago I even made dresses for my nieces, that's how much I love this print. Here is a closer look at the fabric and where you can get it.
The Tee Pee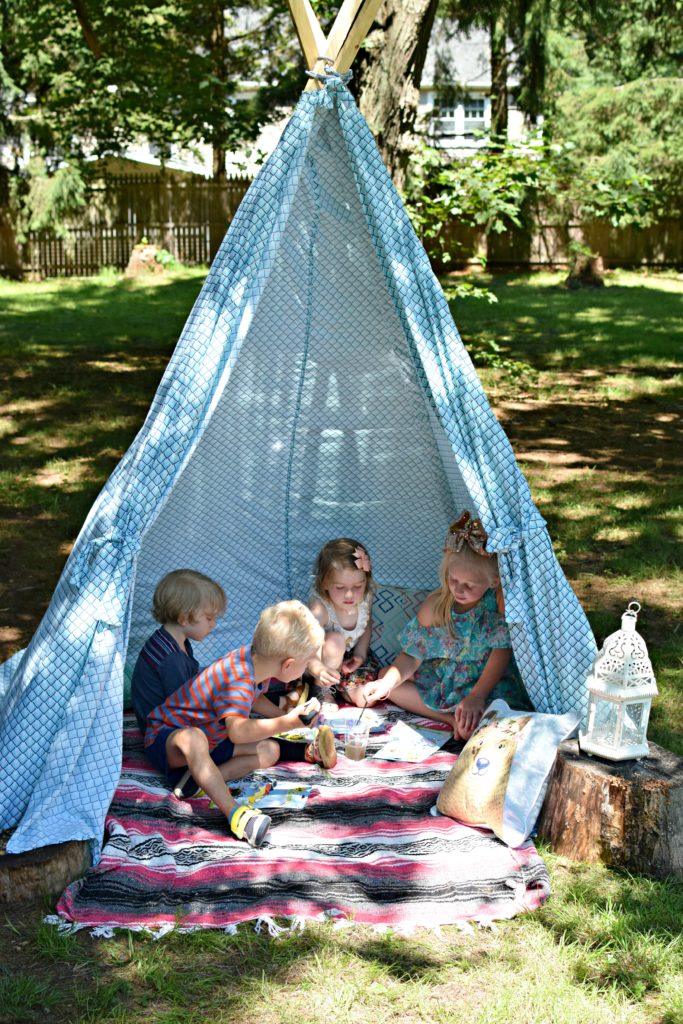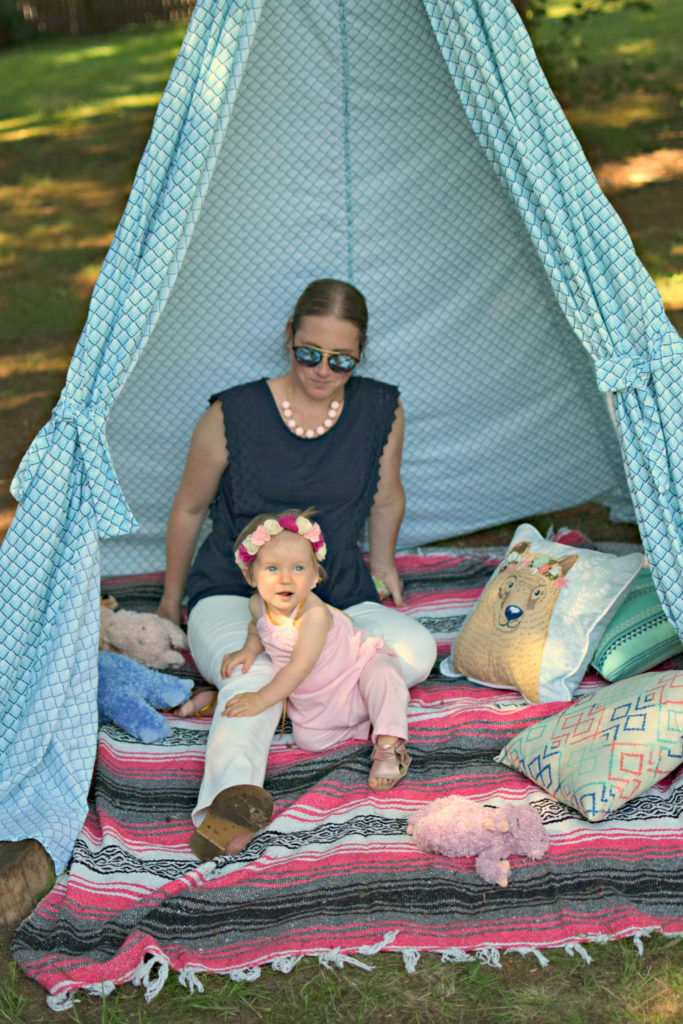 I am so glad this tee pee got to make another appearance for this woodland party theme! I made this tee pee for my  boho/festival themed party .  For more on how to make this giant tee pee yourself click here for the items needed and instructions. The tee pee was a little windy and it kept grabbing the wind. For this reason I placed logs to hold down the fabric and they made great additions to the decor. Also, it's pretty easy to store as the legs just collapse in so it makes one long piece. The kids had fun hiding out and playing in the tee pee and made great photos. If you are looking for an everyday hang out for your kids I recommend using a thin pvc pipe and making it smaller. This makes it a little safer for really active play then the heavier wooden stakes.
Woodland Birthday Photo Wall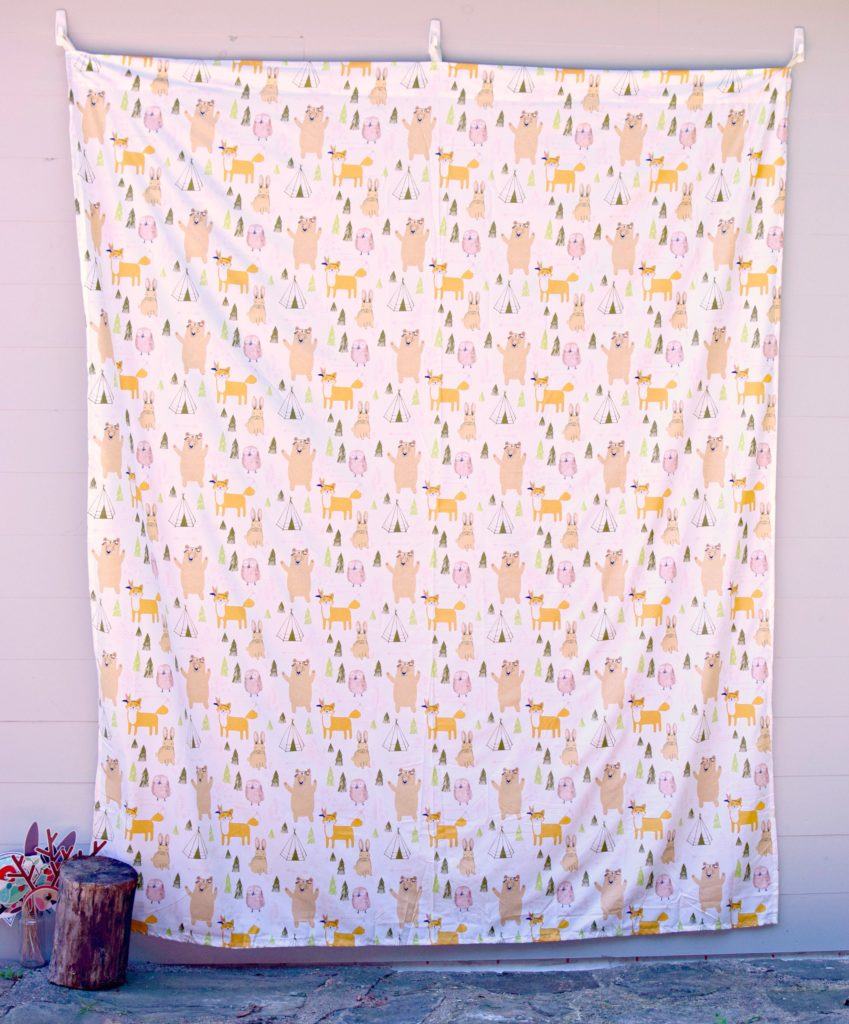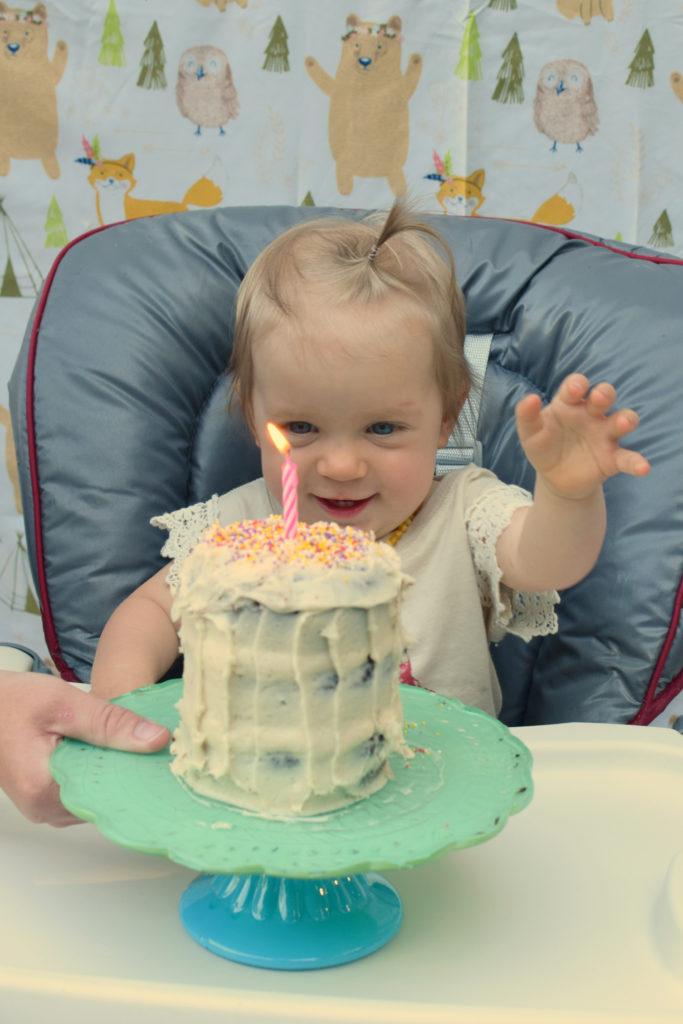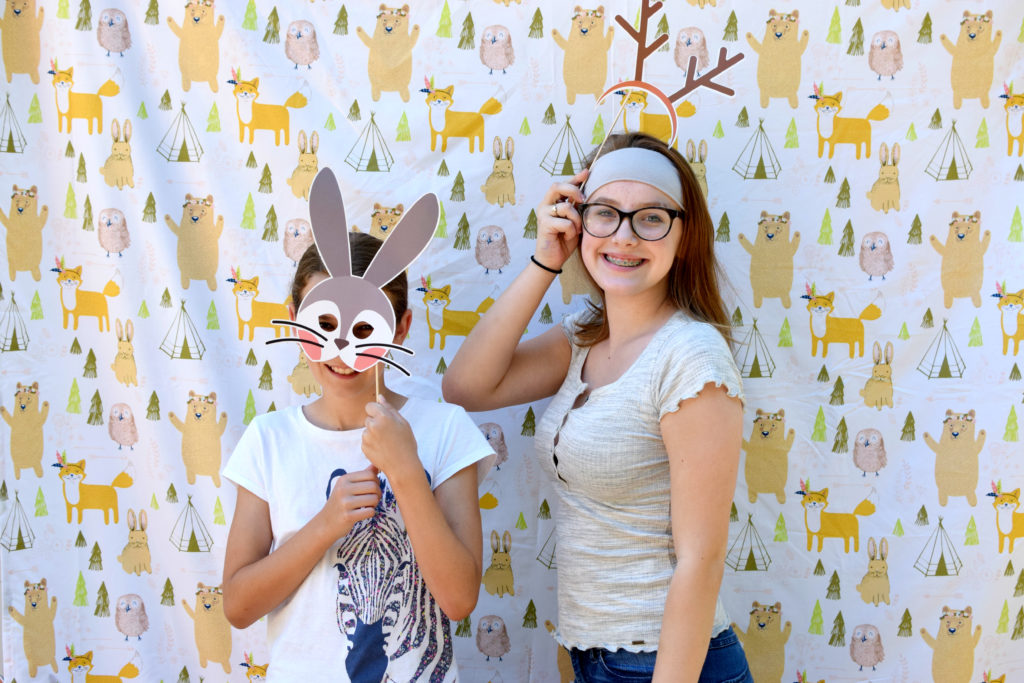 Back to the print that started it all to inspire this woodland birthday party. The backdrop is actually a sheet a flat sheet where I sewed three fabric loops on top. Then with these loops I hung the sheet with temporary command strips.  Using a backdrop made a clutter free background for photos like Delphine's cake smash. I purchased these props on Amazon inexpensively tying to the woodland animal theme.
Looking back on the last year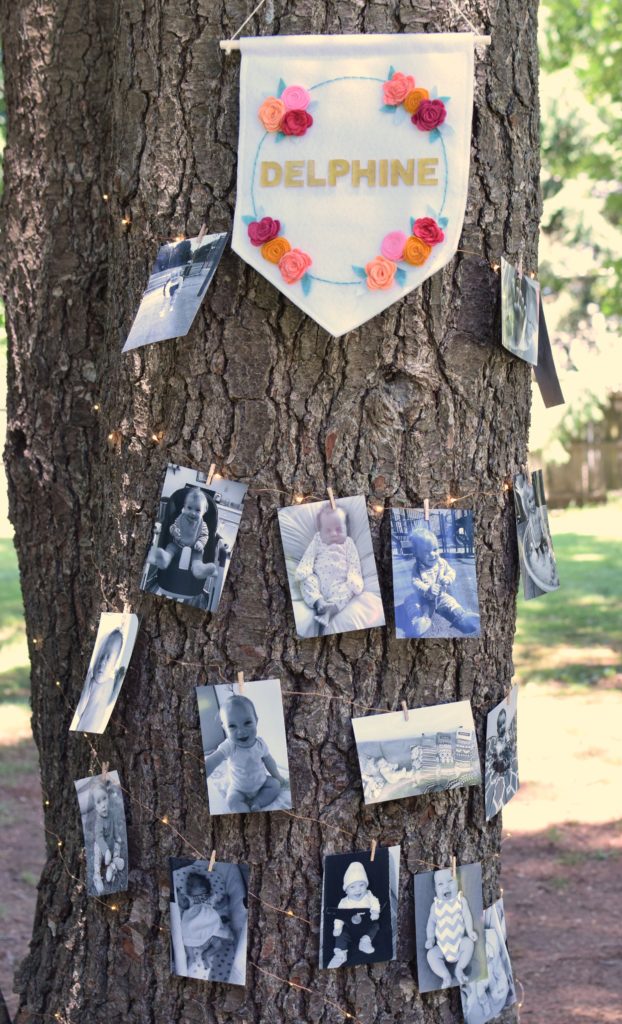 First birthdays are huge since little ones change so much in the first year. In the mean time babies go from sleeping little bundles to walking, crawling and interactive toddlers. Therefore, I think its great to have photos from throughout the year just to remember all the growth they have made. Since this is a woodland birthday party, I thought this tree made a great place to hang photos. Using a long strand of battery string lights from Amazon and mini clothespins, all the photos were hung for all to enjoy.  Final touch was this custom banner made by Sarah the owner of  Silly Ollie to match the fox fabric. In fact I highly recommend checking out her store. She has tons of amazing banners, buntings, and ornaments.  Everything by hand in felt, in the colors and themes of your choice, great for gift giving.
Activity Play Station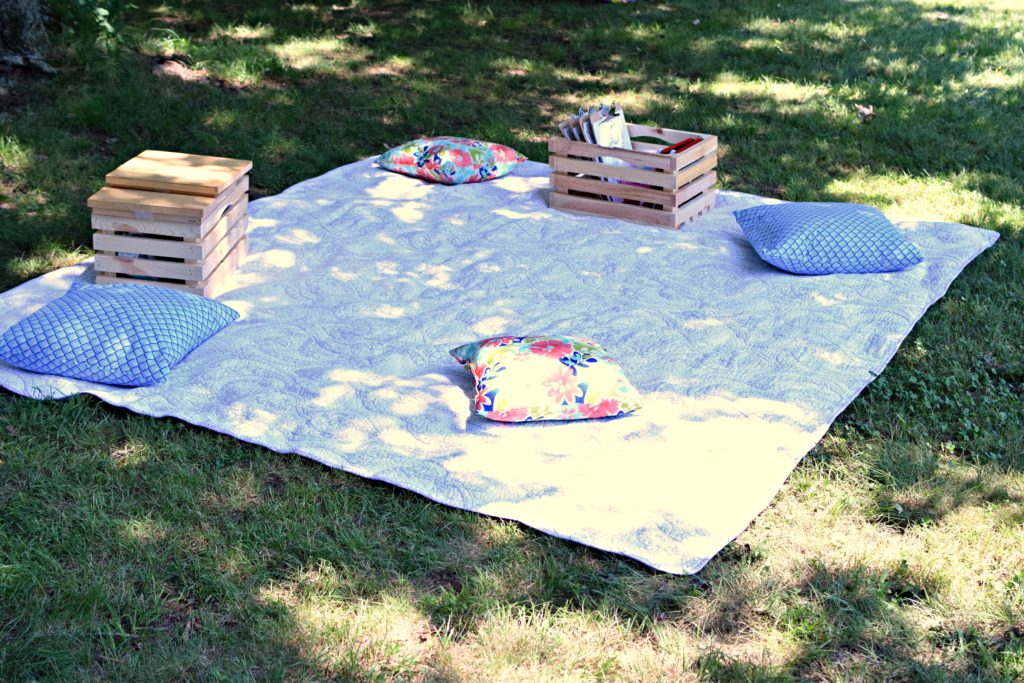 Of course you need some activities when throwing a kids party. We used a large quilt as an activity mat with a few comfy pillows to lounge on. As a result it made it easy for all kids to join on their own not needing help into and out of chairs and no extra set up or chairs needed. Then we added activities of coloring, etch-a-sketches, puzzles, and Jenga.
I hope you enjoyed all the details of this adorably sweet woodland birthday party as much as I did.  What was your favorite detail? Ultimately echoing nature perfect for the yard or park, a soft color palette and personalized touches make this theme perfect for so many occasions. By changing small details, can be made for a boys birthday or any baby shower. Stay tuned for my next post and join us back outside for a 30th birthday party pop up style in a beautiful local park. Until Then!
-Ashley
This post contains affiliate links, which means that if you visit fabric.com through this link and purchase something, I'll get a small commission. Items from this post I have purchased from this site and recommend them based on my personal experiences.