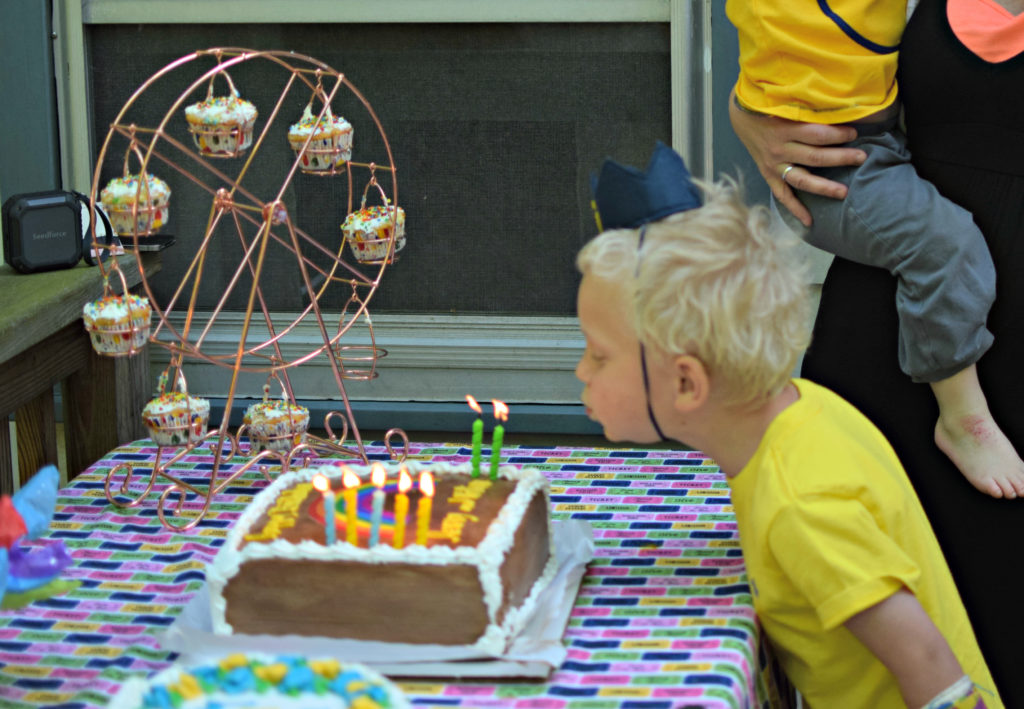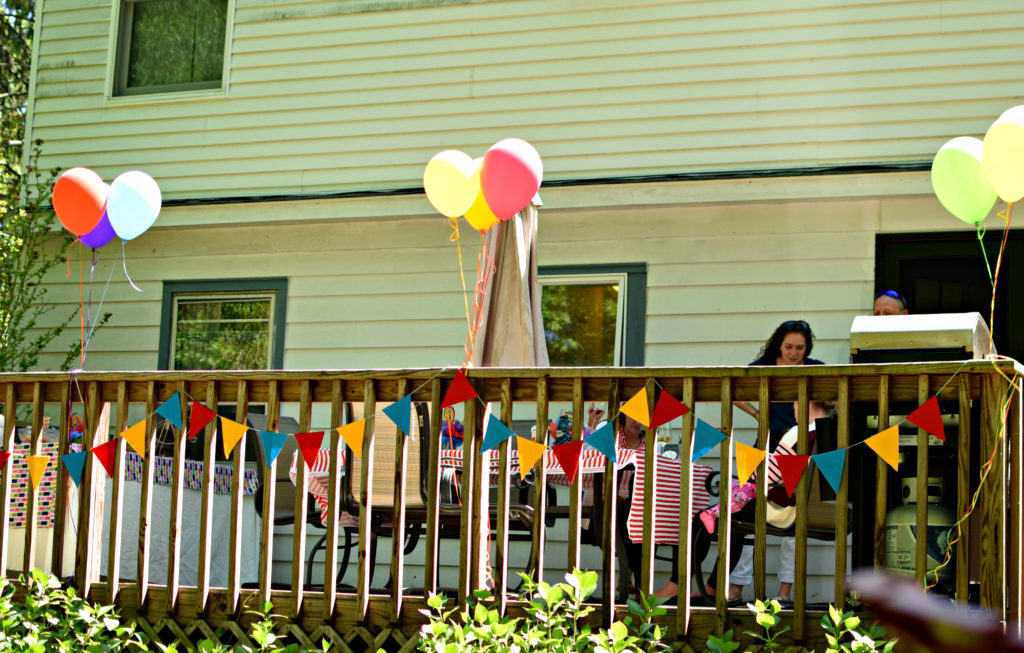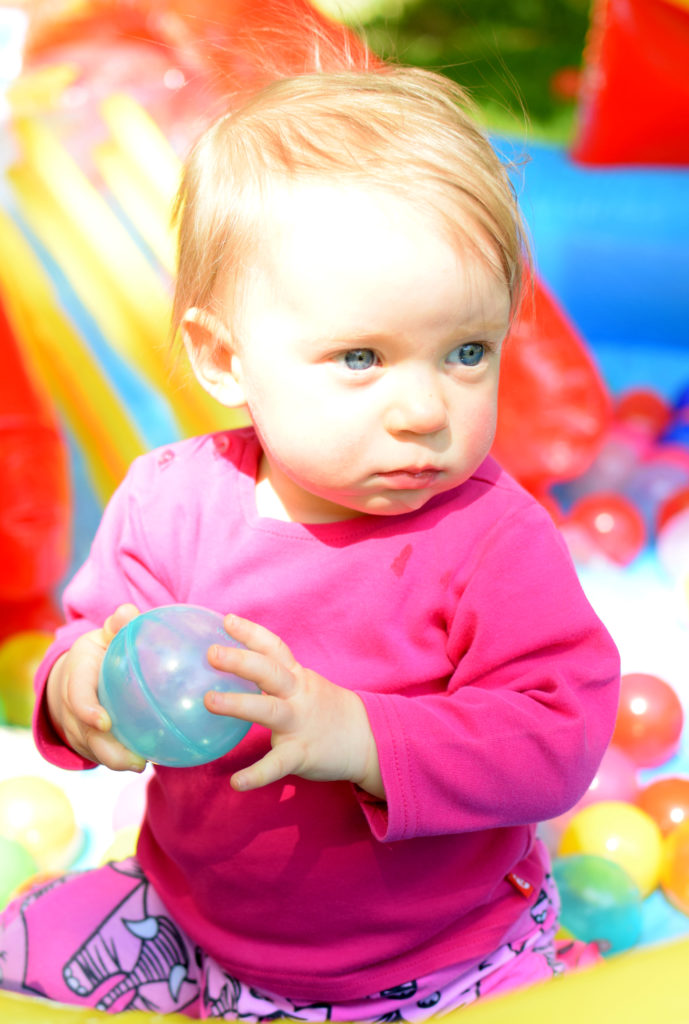 What better way to celebrate a joint 2nd and 5th birthday then a fun and vibrant carnival party. This carnival party has colorful decorations and games, keeps kids entertained, and great for all ages. This time of year makes use of a yard or park with outdoor activities and room to run around an ideal
birthday theme. Here areall the steps used to make this carnival themed birthday.
Carnival Party Decorations
All sorts of colors were tied in but the most common color scheme was the primary colors red, blue, and yellow. Felt triangle pennants were easily made with felt from the craft store by cutting a diamond and gluing it folded over leaving the first 1/2 inch free of glue to slide on the string. Colorful balloons are inexpensive and add extra details and color.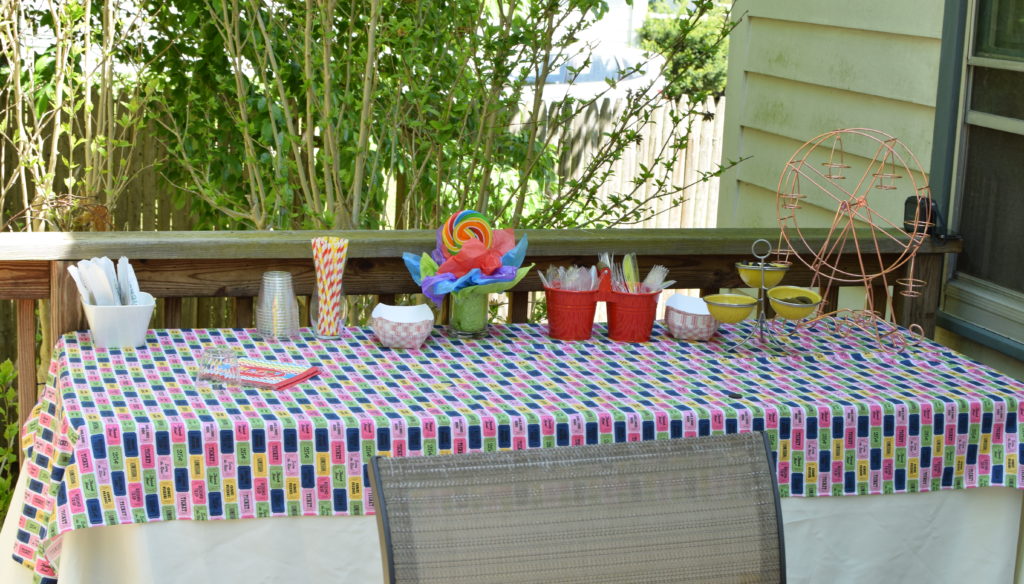 Food Table
This food table starts with a tablecloth made in this ticket print from fabric.com  by Michael Miller Up & Away Ticket to Ride Girl Fabric
. Centerpieces were made for this table and another table using dollar tree vases and a piece of craft foam. Colorful tissue paper is placed around the foam and placed into the vase. Giant lollipops from Michael's Craft store were placed in the foam to stay in place and given to the kids at the end of the party. The cupcake ferris wheel is adorable and was purchased at Marshall's but one can be purchased at Amazon Ferris Wheel Cupcake Dessert Stand Carrier Holder – Steel Wire Frame – for Circus Theme Parties, Birthdays, Weddings, & More – Holds 8 Cupcakes – 17 Inches
.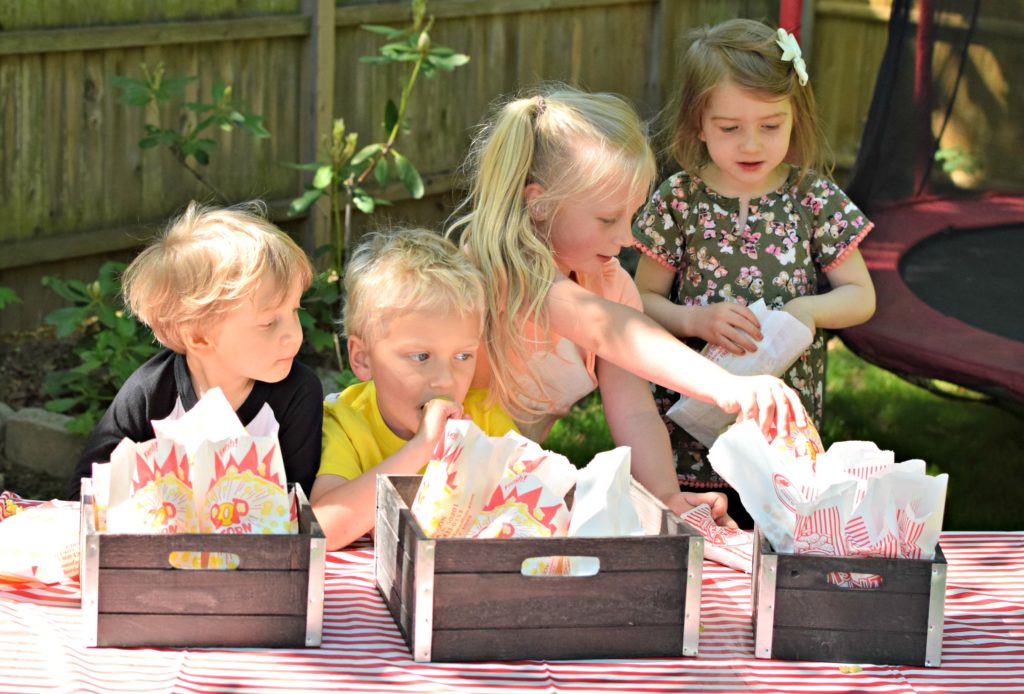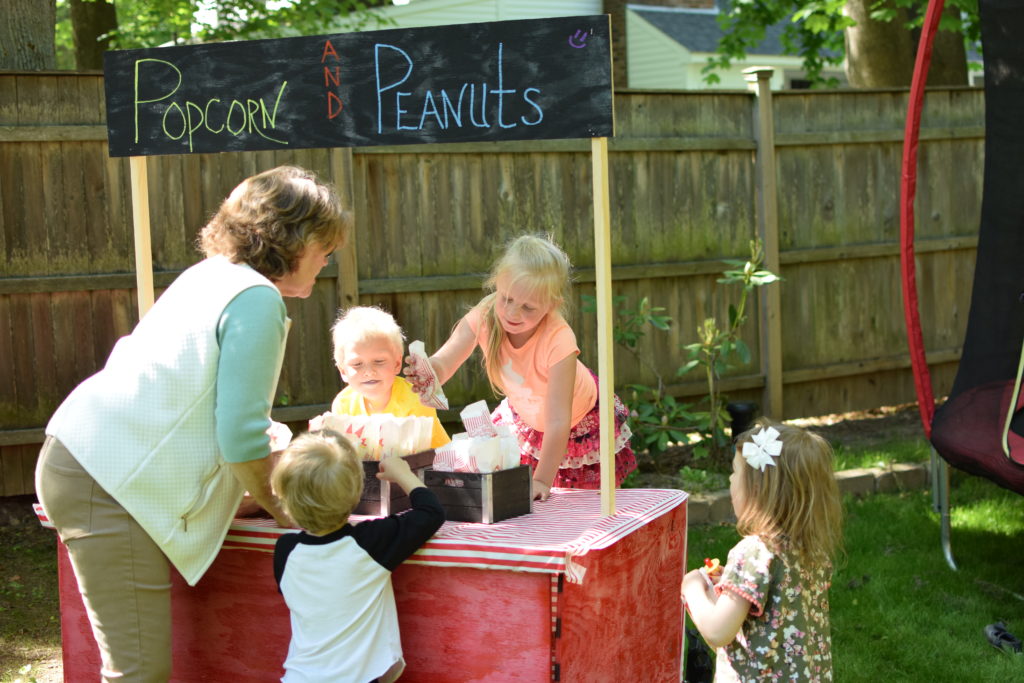 Popcorn & Peanut Stand and Food
This  stand is too cute and kids had a great time pretending to sell food from it. You could do cotton candy or other snacks but felt kids would easily help themselves eating too much and peanuts and popcorn are a little healthier. Various paper products are sold on Amazon for different foods Party Snack Popcorn Bags – 25 Hot Dog Wrappers + Pickle Bags Printed Design outdoor picnic BBQ Fun pack
. There was a crockpot filled with hot dogs and some water making it easy to serve the kids. These paper food trays Disposable Paper Food Tray for Carnivals, Fairs, Festivals, and Picnics. Holds Nachos, Fries, Hot Corn Dogs, and more! – 2.5-Pound, 50-Pack
 make clean up easy and fun with the carnival party theme. Varied wraps made by stop and shop make food prep easy with a pasta and green salad.
The popcorn stand was homemade, after making it once I would alter a few things and I ended up tossing after the party. I used really inexpensive plywood and now would get nicer plywood to make it easier to paint and sand. One large panel and two smaller side panels were held together with hinges making it easy to fold the sides in. The top counter piece was made just larger with a small piece of wood making a lip all around the bottom to keep the sides in place. By placing the top sign a little smaller and making holes for the stand in the top a few inches in, keeps the side pieces locked in so they cant fold in by accident. I used chalk paint on he top part of the sign to write popcorn and peanuts. You could easily cover a small table with a red tablecloth and make a banner above or on the front stating the food object. The top tablecloth in an inexpensive plastic table cloth from Amazon Red Striped Plastic Tablecloth, 108″ x 54″
.
Photo Backdrop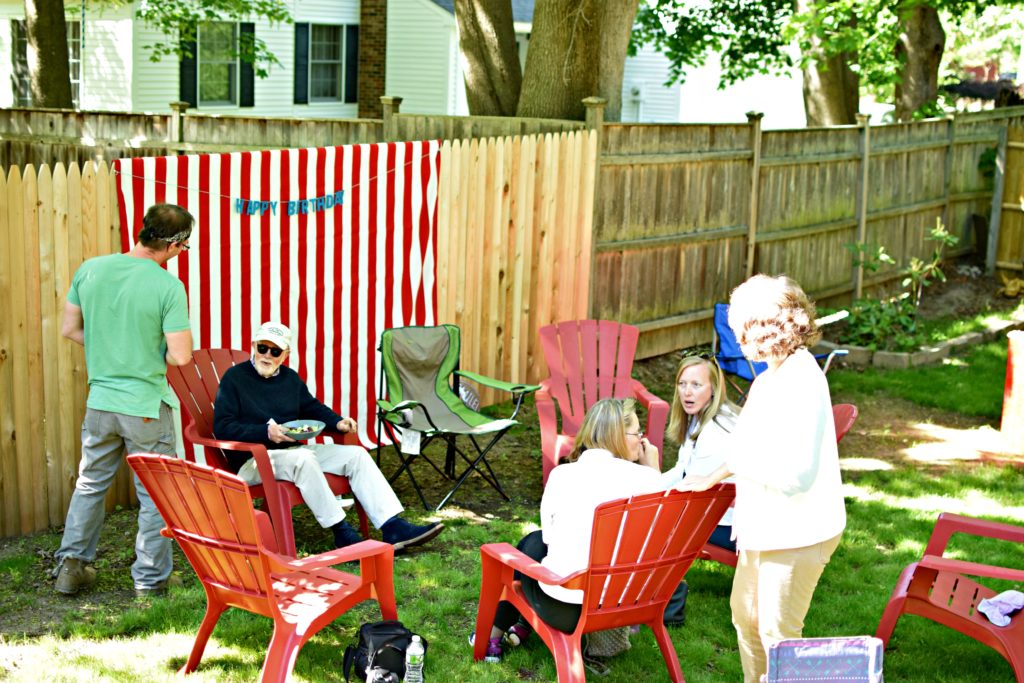 Toward the end of the party chairs ended up migrating around the backdrop for conversation. Here it was draped over the fence with a felt happy birthday banner. This backdrop was made out of two piece of fabric that were 3 yards long from fabric.com Premier Prints Indoor/Outdoor Stripes Rojo Fabric
 and then sewn together side by side to make an extra wide panel.
Carnival Themed Games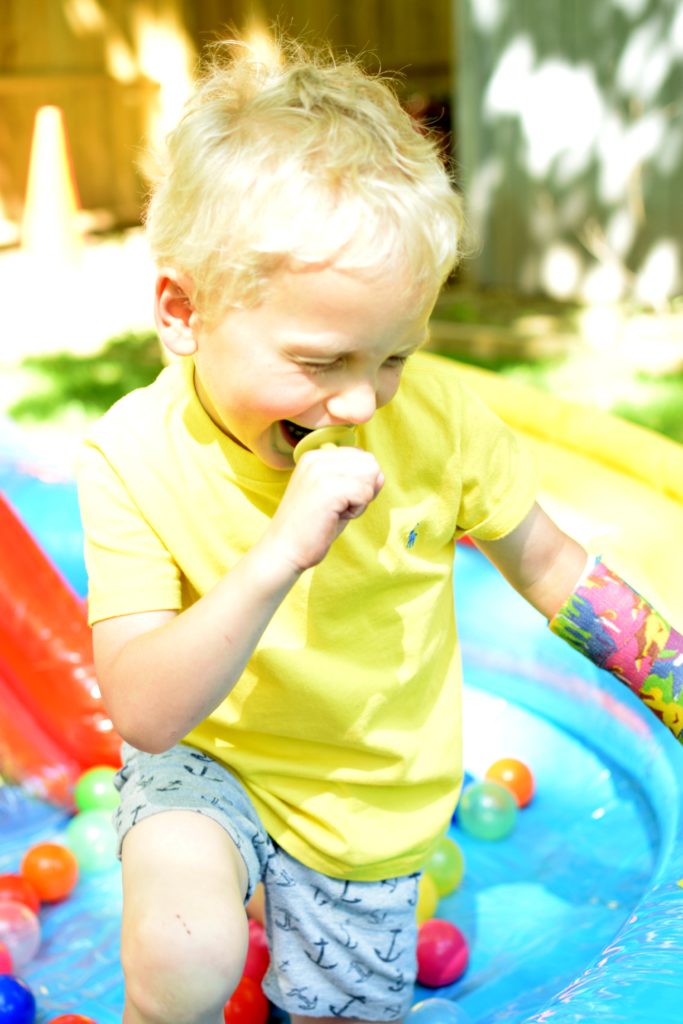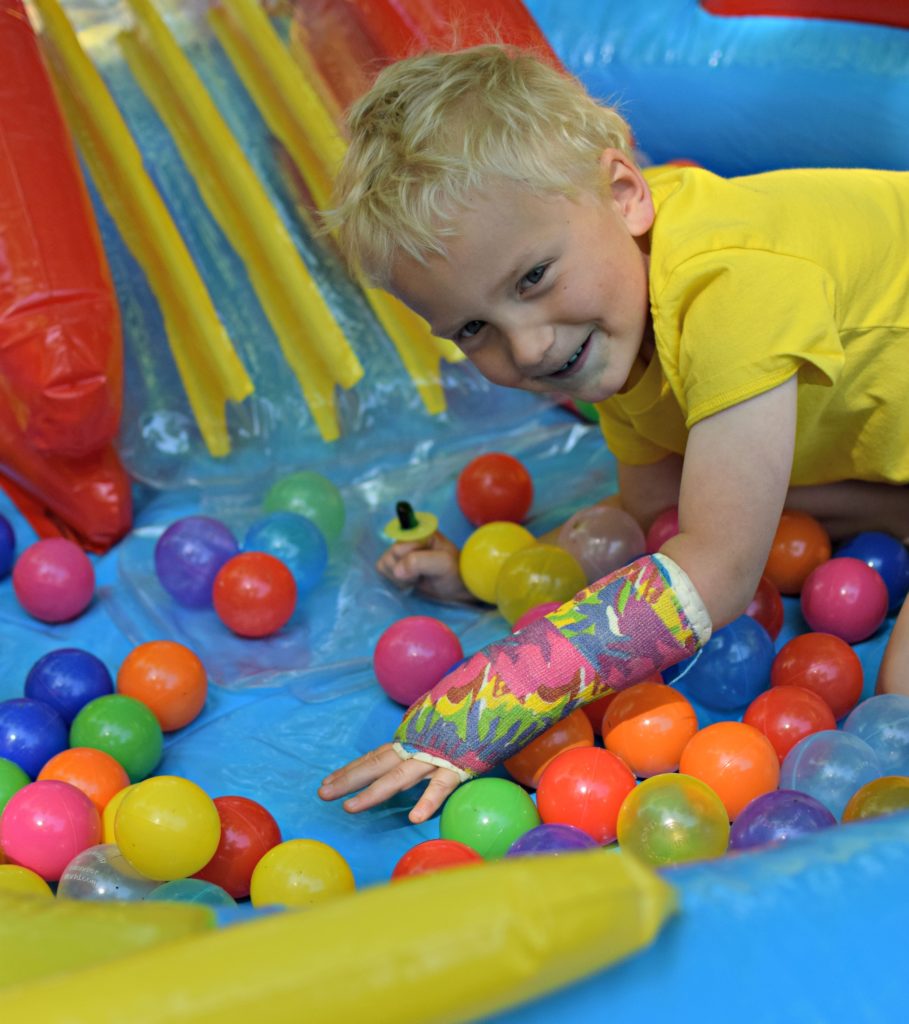 You can't have a carnival party without some games and activities. Here are photos of the birthday boys enjoying this inflatable ball pit, clearly fun for all ages. You can purchase one on Amazon Intex Rainbow Ring Inflatable Play Center, 117″ X 76″ X 53″, for Ages 2+
. Plastic balls are sold on Amazon as well separately woodi Crush Proof Pit Balls, Made of Food Grade Plastic, Phthalate/BPA Free, 6 Colors with Reusable Box and Carry Out Mesh Net, 200 Piece
. Other games were included but unfortunately I don't have photos but here are some that can be purchased on Amazon and used anytime for some backyard entertainment.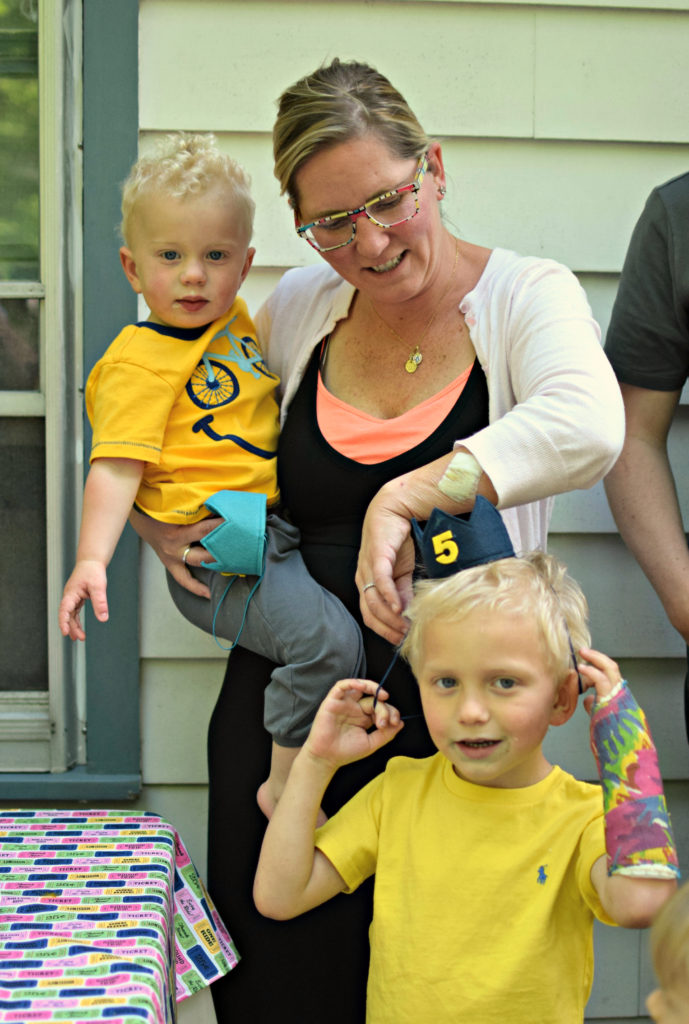 I hope this has inspired you and given you ideas to host your own carnival party to celebrate the special little one in your life. This theme was easy to put together and put a smile on everyone's face.  These two birthday boys had a blast running around playing games with the other kids and was a complete success! Stay tuned for the next post as I share photos from a springtime bridal shower. If you missed the last post take a look at this Simple Classic Black and White Graduation Party to celebrate the your grads big achievement. See you for the next party!
-Ashley
This post contains affiliate links, which means that if you visit fabric.com through this link and purchase something, I'll get a small commission. Items from this post I have purchased from this site and recommend them based on my personal experiences.