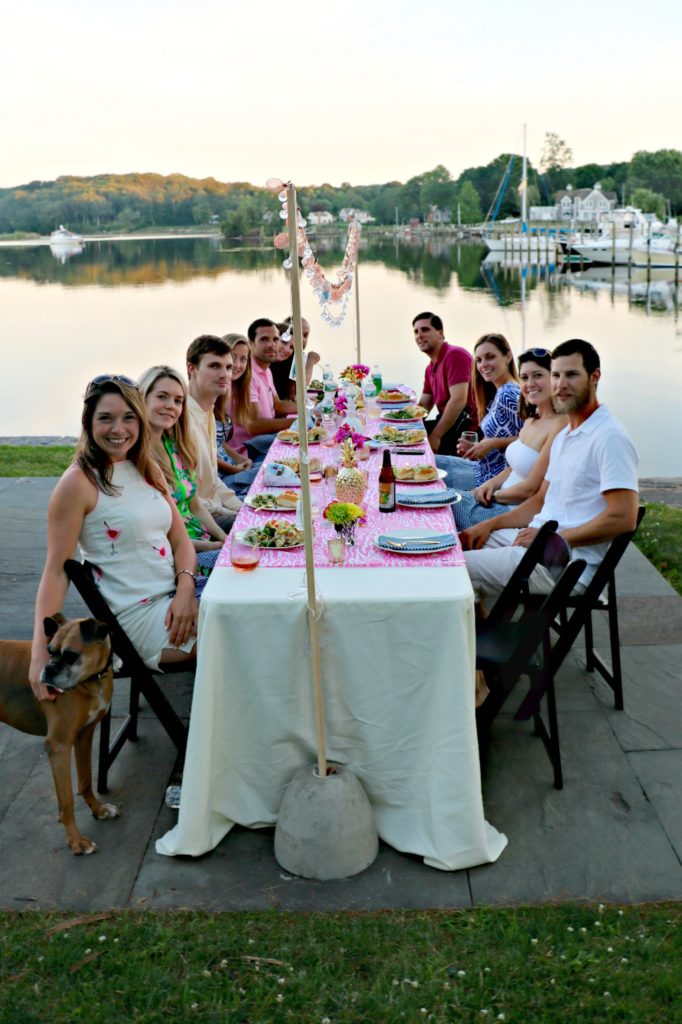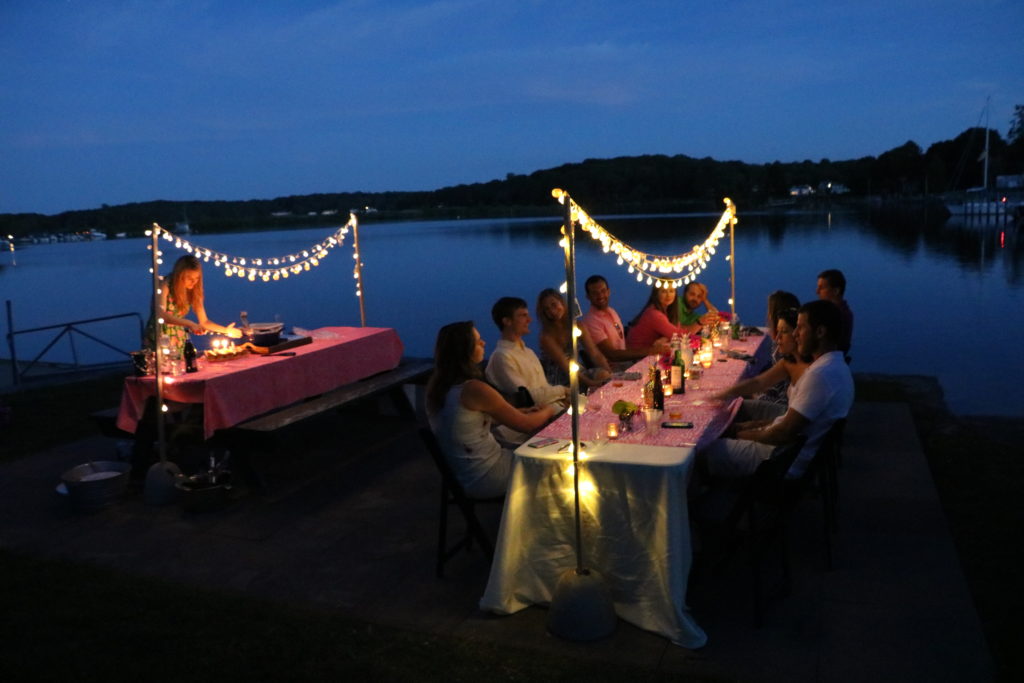 What's a Pop Up Party
I can't believe it has taken me so long to post this fun summer pop up party. Summer just flies by so quickly here in Connecticut that I've been trying to make the most of it. Most of the summer entertaining has not made it to the blog yet but before the weather gets too cool, I wanted to share this fun, birthday pop up party. For those of you who have never heard the term of a pop up party, it basically means throwing a party in a random location, often a public place. In many ways it can be a glorified picnic. This party was held in a local park on the river. The menu consisted of all items served cold or room temperature that was made in advance which makes for easy hosting. I love the idea of a party in an unexpected location and being able to enjoy different views and spots your local community has to offer. Here is how we made this pop up party to celebrate a dear friend's 30th birthday a casual yet special celebration.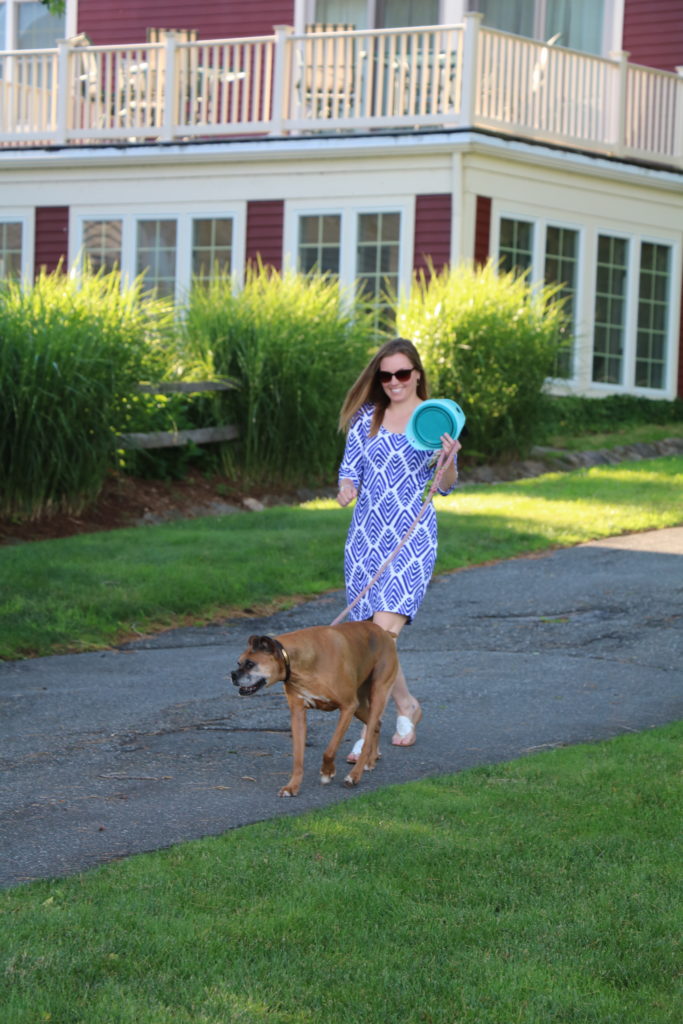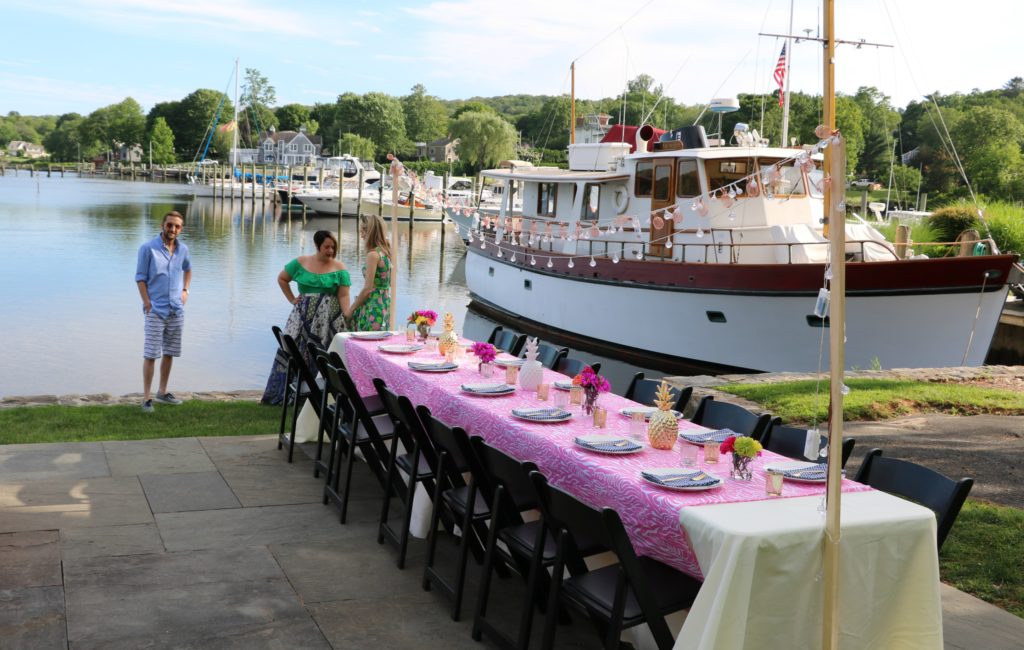 Pop Up Party Location
When choosing a location there are many factors to consider and some depends how large of a group you have. Larger parties will require more space so find a park with ample room that isn't too busy. It's good to scope out your location before the party on a typical day that you plan hosting. For example, if you're hosting your party on a Saturday go there on a typical Saturday for an hour before and for the duration you plan on being there. You don't want to go on a Wednesday, see it's empty and quiet only to go on a Saturday and find its packed and you can't find a spot. I have made this mistake
especially with bigger state parks. Another thing to keep in mind is if they close their gates by a certain time or will be charging parking at that time. You wouldn't want to be kicked out early or your cars locked in.
Having a pop up party means you have to bring everything you would need to the location. This includes tables and chairs if there is no existing seating like picnic tables. If you have a large party and bring a large amount of things keep in mind how far you have to carry all these items from the parking lot. A wagon or lawn cart works great for carrying items to your ideal spot. If your planning on bringing wine or beer to your party make sure the park allows it and any permits or restrictions that may be needed. In Connecticut most of the state parks allow alcohol in designated picnic areas. Lastly, when planning the location of a pop up party consider if bathrooms are available and how far from your party site that your guests will have to walk. It's always a great idea as well to bring bug spray or citronella candles to keep bugs at bay.

Table Set Up
This park only had one picnic table in this spot that wouldn't have seated everyone so folding tables and chairs were brought to the site. This allowed the one picnic table to be used as a buffet for food and drinks. Placing a long tablecloth that cover the legs of the folding table and using an overlay looks much nicer then having the table legs show and can be bought on Amazon inexpensively.  Being outside you may want to use clips specifically made to keep your tablecloth in place and from blowing around. For plates I like to use these white ceramic plates I bought at Goodwill for $.30 each so I don't have to risk breaking my nicer set that I have at home. If you want less dishes you can use paper plates, melamine or biodegradable bamboo plates. You can find biodegradable bamboo plates on Amazon that look great and can be tossed at the end. Along with plates you will need all utensils and serving dishes. Don't forget to bring receptacles for garbage and recycling. You'll also need garbage bags for garbange and for placing dirty dishes in to transport home. I find it useful to also bring left over containers and saran wrap for taking care of left over food as well.

Table Decorations
The color pallet for this pop up party was inspired by the designer Lilly Pulitzer with bright colors and fun prints. This pink zebra fabric used as a table cloth is a Lilly Pulitzer fabric as well as the flamingos on the picnic table. In the spirit of Lilly Pulitzer and summer we asked everyone to dress in fun bright colors to tie with the theme. I found these ceramic pineapples at Homegoods and bright flowers finish this simple table decor.
Food and Drinks
You will need something to keep your drinks cold. You could use a cooler but I like to use these buckets. With ice to keep drinks cold and they are also great for carrying items in. I usually stick to beer and wine but if you had a cocktail I would recommend choosing a premixed one in a sealed pitcher or container. Be sure to bring cups and any openers needed for beer and wine. Again make sure the location you choose allows alcohol if choosing to bring any. For food we kept things easy that was prepped in advance, served room temperature. For starters we had simple hummus with veggies and crackers and a platter of veggie spring rolls with dipping sauce. Dinner consisted of the main item being mini rolls stuffed with chicken, egg and shrimp salad, (store bought works just fine if you don't want to make yourself). In addition was a green salad, pesto pasta with peas and herb lemon vinaigrette potato salad.  Don't forget all your serving utensils and again saran wrap etc to package left overs. We brought all the food and drinks in coolers or insulated totes with ice packs to keep everything cold before and after being served.

Lights
In the past when I had a pop up party we had to rush to clean up while the sun was setting. This time I decided I did not want to rush out when it began to get dark. String lights make everything better! These battery operated string lights from Amazon are easy to transport and add such pretty lighting. Since they are battery operated the light isn't quite as bright so adding multiple strands helped give enough light to take the party into the evening. I even found these fun copper pineapple lights to mix in from home goods. If you are somewhere with a large tree you can hang lights from tree branches like we did for this 30th Boho Party.
How to Make Portable Stands
We did not have any trees here so I decided to make these concrete stands with removable wooden posts. To make these stands you will need a plastic flower pot (simple style with tapered bottom), 2″ PVC pipe, cooking spray, concrete mix, hooks, and 2″x 2″x 8′ wooden posts that fit snugly into the pipes. All I did was spray the inside of the pots with cooking spray and place a 2″ pvc pipe that is just a little shorter then the pot in the center of the pot. Mix concrete to package instructions and have someone hold the pipe in place and carefully pour concrete in the pot around and level with the pipe. Try to not let concrete get into the center of the pipe but if a small layer gets in you can poke it out later. Once the concrete is completely set flip the pot over and gently slide out of the planter. They should be quite heavy depending on the pot size and I reused the same pot to make all four molds. Lastly, I placed hooks at the top of the wood posts to hang the lights.
 
In the end this pop up party was a blast and pretty much went off without a hitch.  I hope you decide to plan your own pop up party whether it's a larger one like this or a few friends with just wine and cheese.  I highly recommend making a list of everything and crossing it off as you pack so you don't forget anything. Guests will love enjoying a new fun spot and having everything made ahead means you can hang out with your guests in stead of cooking. Best of all clean up is a breeze since you have so many hands to help you pack up. I hope you enjoy the outdoors before it gets too cool outside!
-Ashley