Oktoberfest Party
  
What a better way to bring in fall then with beer and soft pretzels German style and even involving the kiddos. This is the second Oktoberfest party we have hosted with another couple that we are very close to. If you're planning a larger party like this with lots of food and friends, co-hosting makes it much more imaginable. For those of you not very familiar, Oktoberfest is a huge festival (over 6 million people attend) that last a few weeks in September into October and takes place in Munich, Bavaria, Germany.  This year made it the 184th Oktoberfest.  Here is a simple guide on throwing your own backyard Oktoberfest party.
Decorations
Welcome to the Bier Garten
Biergarten is German for beer garden, simply an outdoor area that serves beer and food. I made this sign out of felt and doubled over and glued to be hung on a ribbon. Most of the decorations stick with a color scheme of the traditional Bavarian blue and white.
Photo Wall
This photo wall was made inexpensively with blue cotton fabric. There are two panels that are 3 yards long sewn side by side to make one large panel. Another way is to use a blue flat sheet. I then added three loops at the top with ribbon and hung with command hooks. If you're not into sewing you could also cut three small 1″ slits about an inch from the top to hook through. The banners were again made out of felt and doubled over and glued.  I always leave about 1/2″ at the top without glue to string onto the ribbon. Suggested to me by my friend at Silly Ollie,  use craft glue and press between large books until completely dry. This avoids the visible glue when using a hot glue gun.  I suggest using those large needles that can thread a thin ribbon or yarn to string everything. Props came from Amazon and I had Staples laminate them so they would more easily be used year after year. The kids had the most fun trying all the different props and getting their photo taken.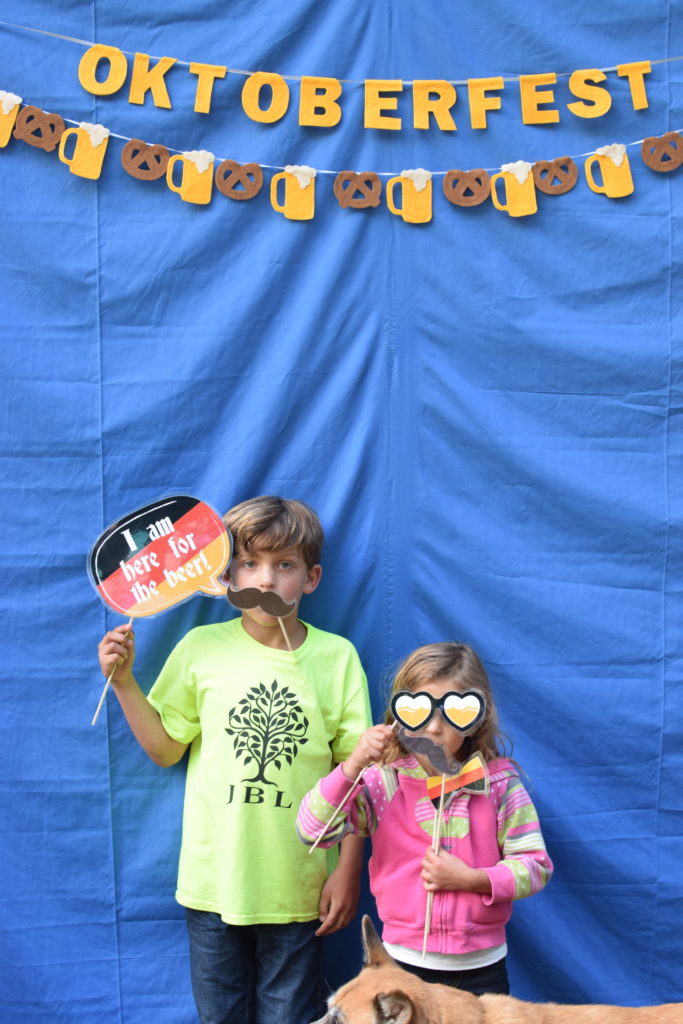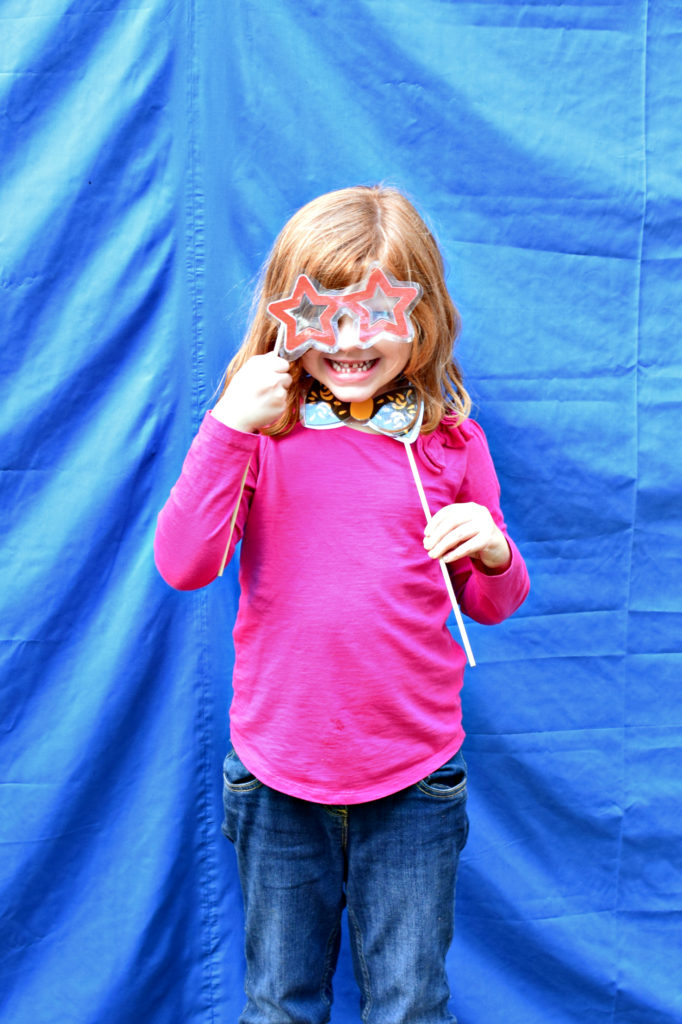 Table Decorations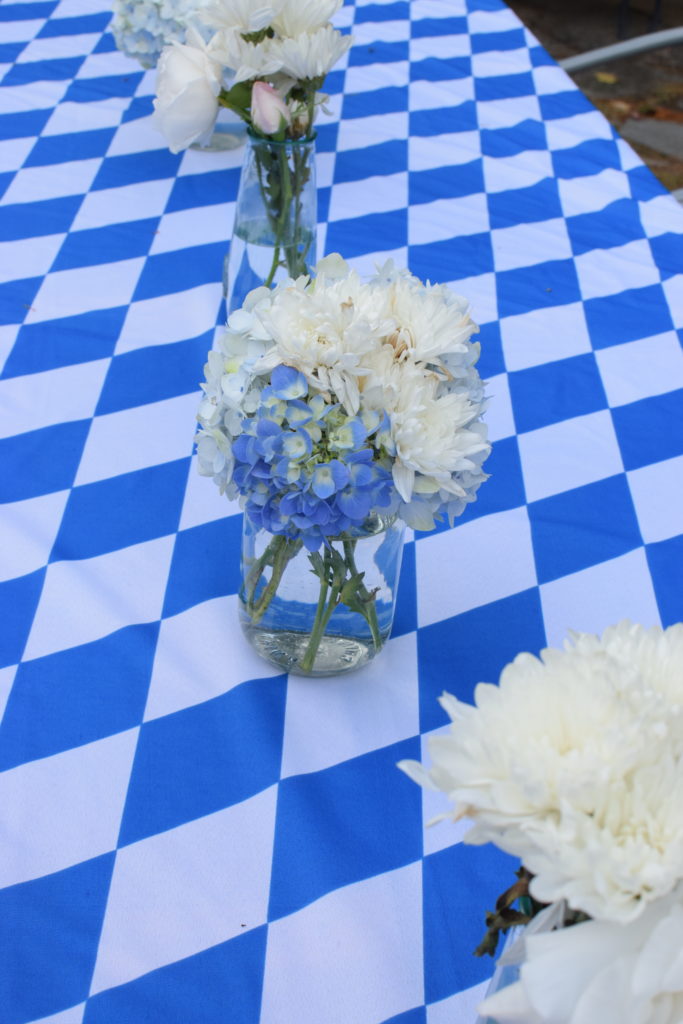 I kept the table super simple, not tempting little ones to want to play with decorations. I think flowers are just enough with this large traditional Bavarian printed tablecloth. Blue and white hydrangeas from the garden and white mums keep in theme without being fussy.
Food & Drinks
For drinks, we kept with some German inspired food. Apps started everyone with a cheese plate, soft pretzels, and beer cheese in a mini crockpot. I crockpot was used as well to keep meatballs warm to pick on. Grilled Bratwurst, German potato salad, spaetzle (German pasta) tied in the theme. We also had made baked lemon chicken, green salad and hot dogs for little ones to make sure everyone had something they would enjoy. We then moved to dessert with delicious apple pie made by a friend and s'mores for the fire pit. I highly recommend doing as much prep work as you can. Most of the items were made then popped in the oven to warm up and kept on warming trays.
You can't have an Oktoberfest party without beer! To keep with the theme some German and Oktoberfest beers were put in a stand-up cooler and we had glass steins for our guests. The dollar tree has great steins that are large and thick glass and for a dollar, you can't go wrong! We also had out a tub with sodas and sparkling water, as well as red and white wine for non beer drinkers.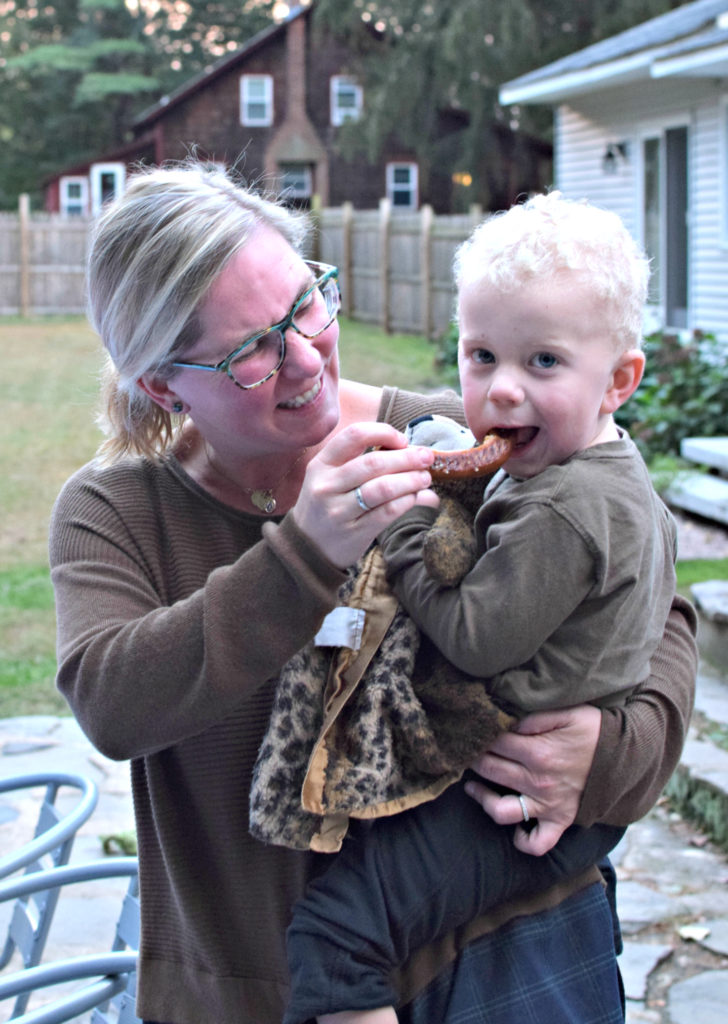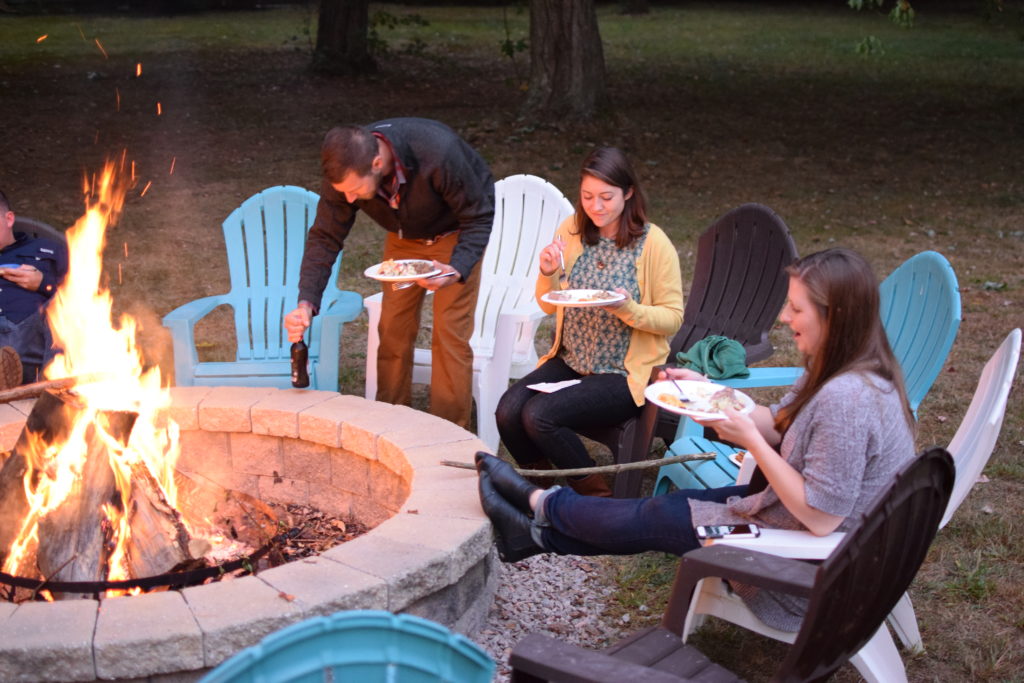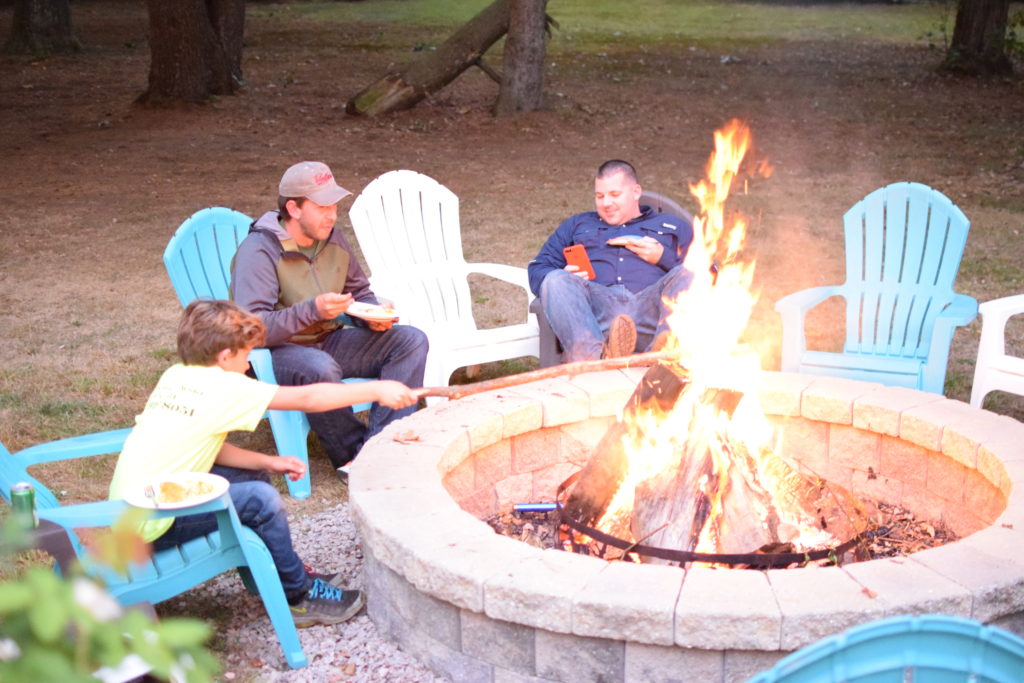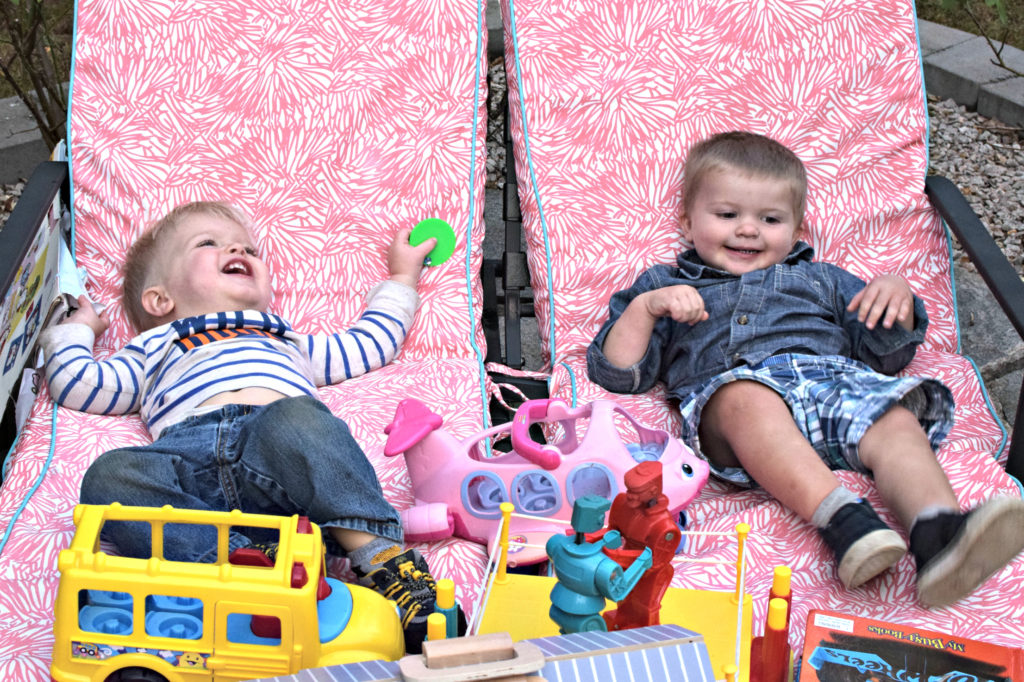 I hope this inspires you to get outside and throw your own Oktoberfest party! Who doesn't want an excuse to get families together and celebrate with beer and pretzels. Simple blue and white decorations and inexpensive steins from dollar tree makes this backyard get together something out of the ordinary. If you love the idea of a beer party whether it's an adult birthday party or want somehting different than Oktoberfest check out my Beer Tasting Party with FREE PRINTABLES!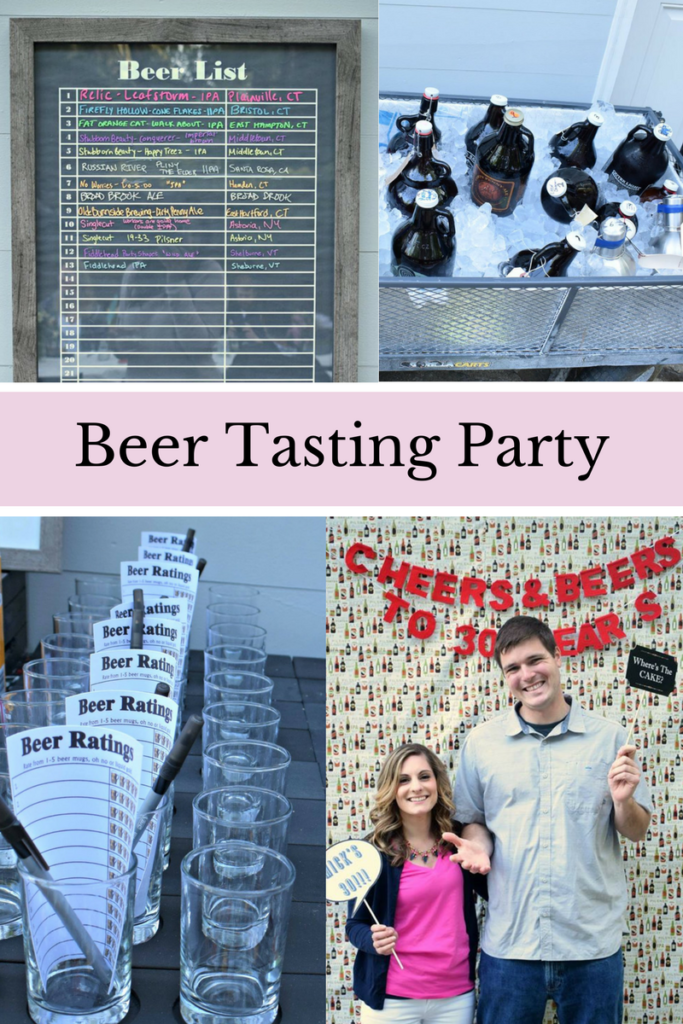 Oktoberfest is one of my favorite ways that I embrace fall and hope it becomes yours too. See you at the next party!
-Ashley