Happy Halloween!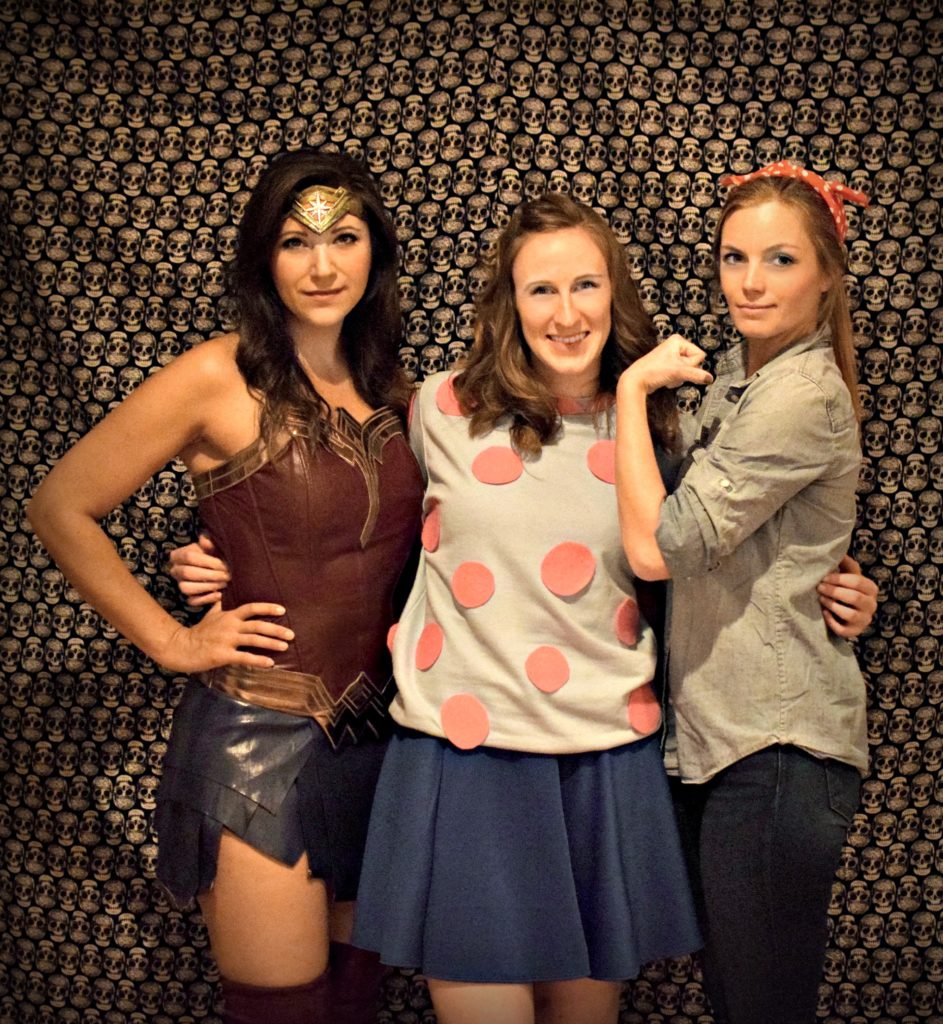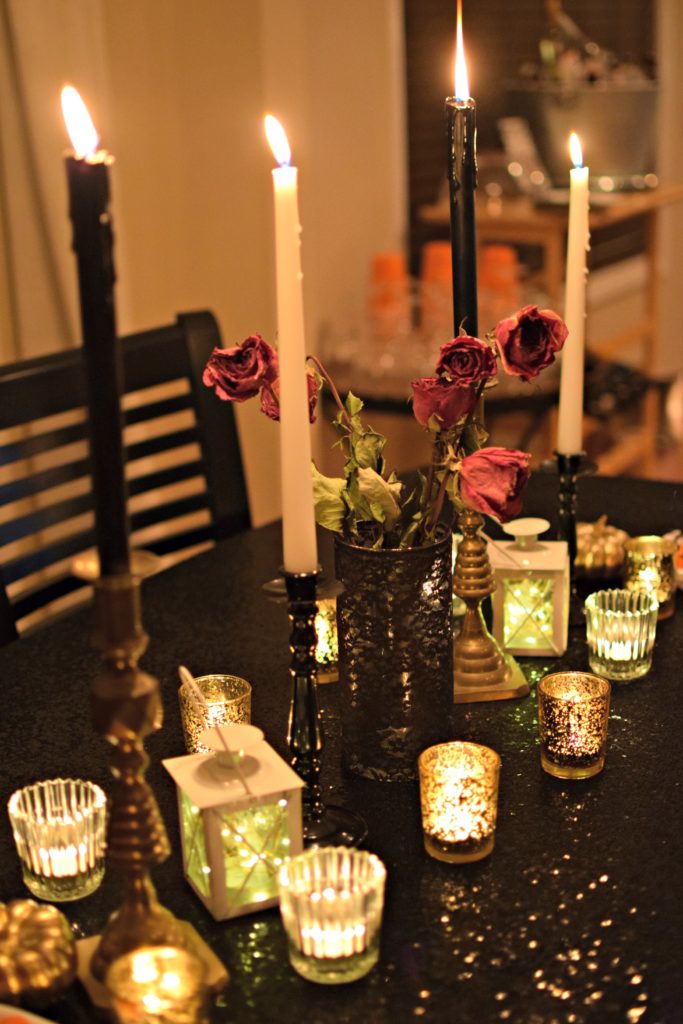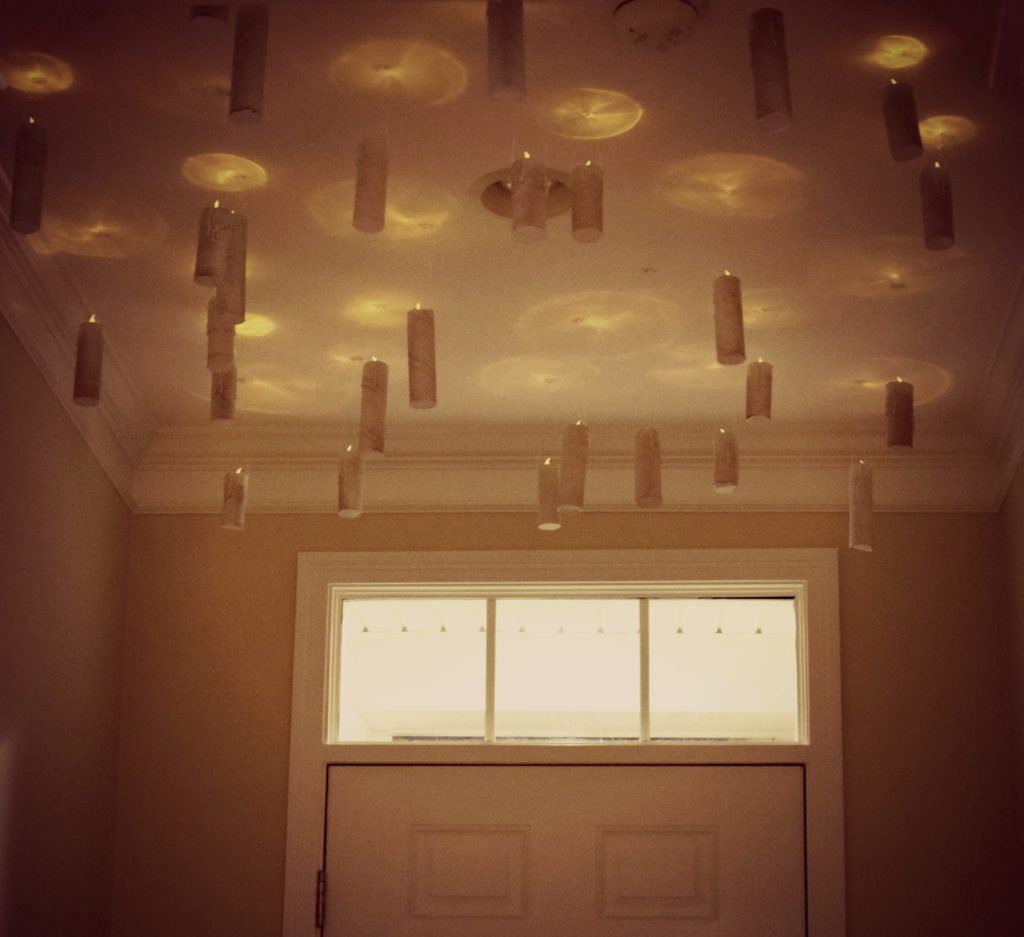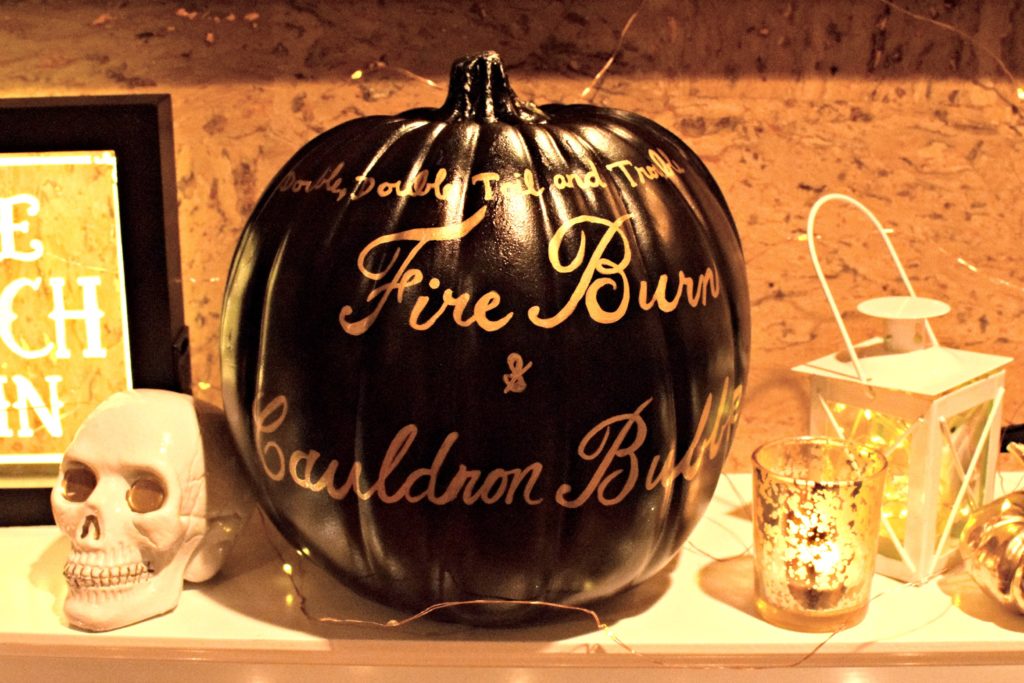 I hope everyone is enjoying this spooky holiday with candy and maybe watching Hocus Pocus! I wanted to share with you photos from this past weekend where I with decorations for a fun Halloween party hosted by a couple that are good friends. There was great food, drinks, and lots of awesome costumes.
I recently watched the movie Wonder Woman and loved the new update on the character and Gal Gadot who plays her. This is the costume I settled on since who doesn't want to play a strong, kick-ass, female superhero! Unfortunately, I didn't get around to making the arm bracers which I feel like is a must in this costume but the rest of he store bought pieces look pretty good still.
Decorative Touches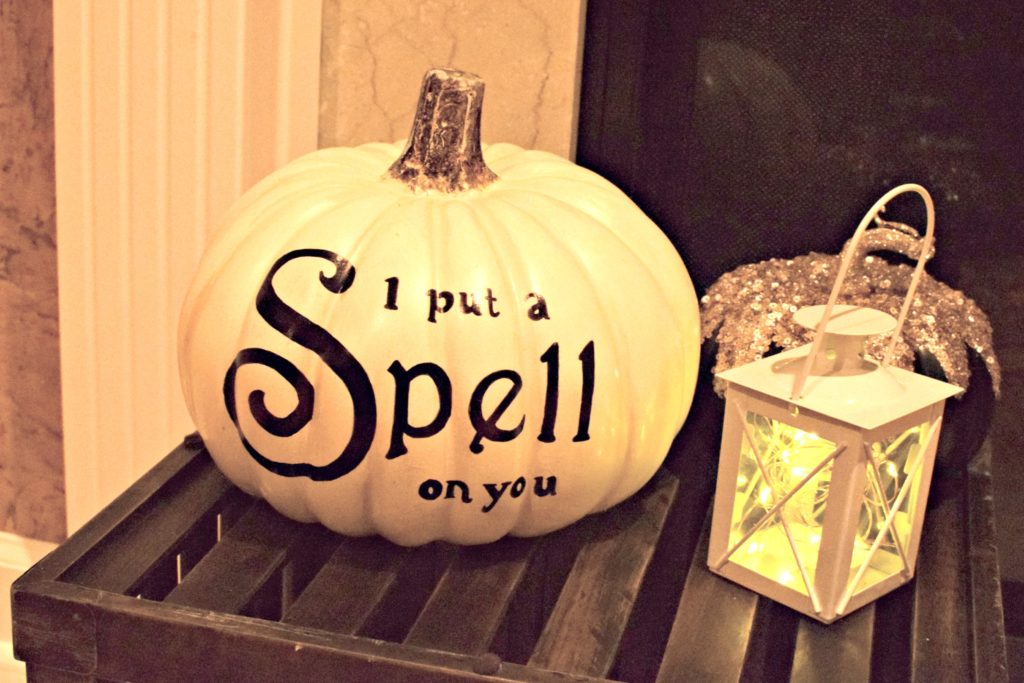 The decorations for this Halloween party were classic with a black, white and gold color scheme. I'm not one for really scary decorations so I loved putting things together that kept the Halloween vibe but still on the glam side with gold and sequins.  To me you can never have too many lights so candles, battery lit signs and fairy string lights illuminate the various decorations. We even had a DIY day to make the floating candles inspired by Harry Potter from toilet paper rolls. Although, next year I may work on a better/easier way to me to make them.
I love how versatile craft pumpkins are and you can put them out every year! I used paint markers to draw these Halloween sayings on my pumpkins. I was able to use carbon paper to transfer text to trace for the white pumpkin. Since the other pumpkin was black I had to wing it. I think it came out pretty good and love the gold on black to keep with the theme.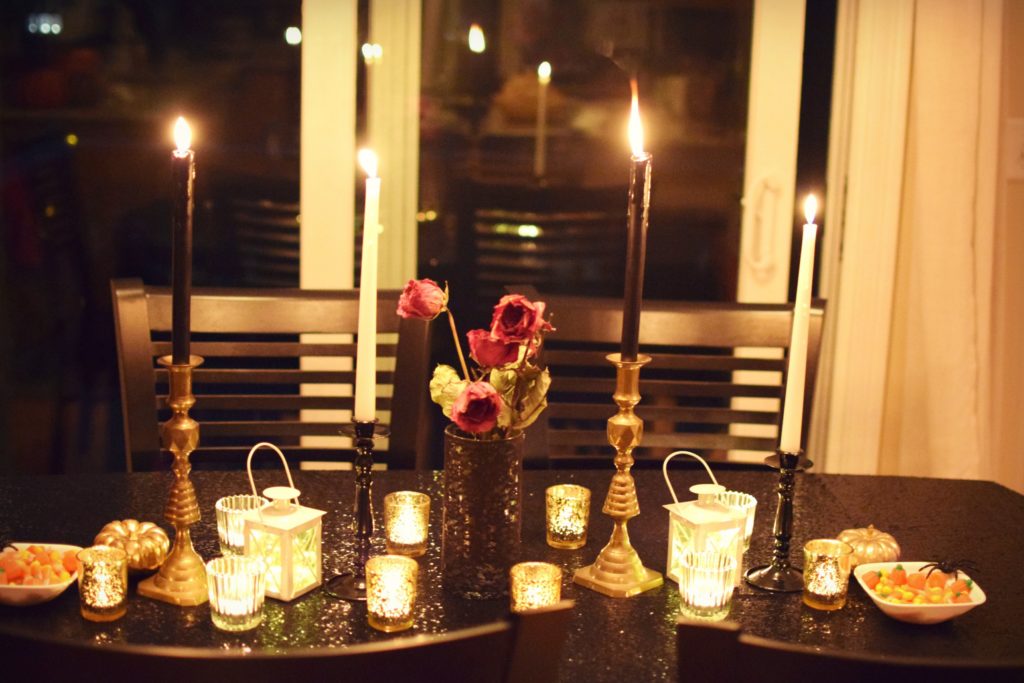 This sequin table cloth was perfect for some glam decor but still feels like Halloween. All that sparkle didn't require much with different sizes of candles, dried red roses and a few gold spray painted mini pumpkins.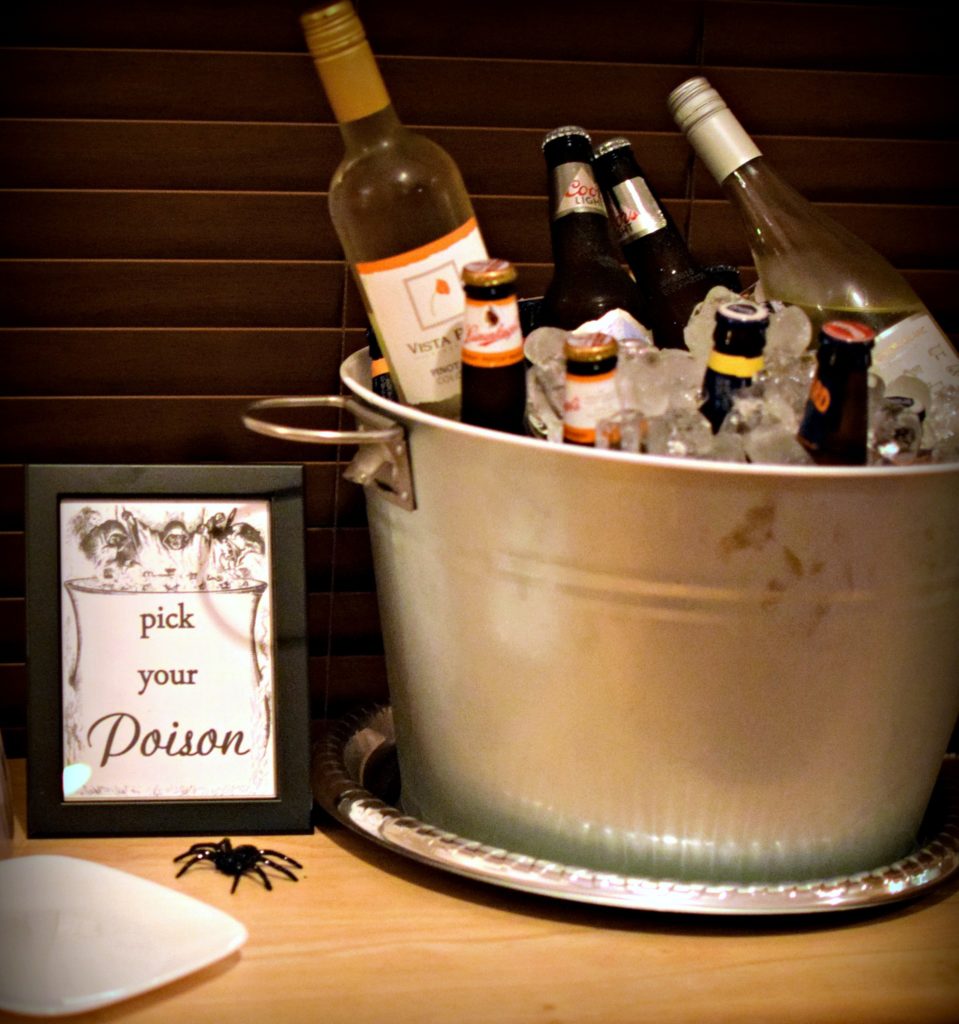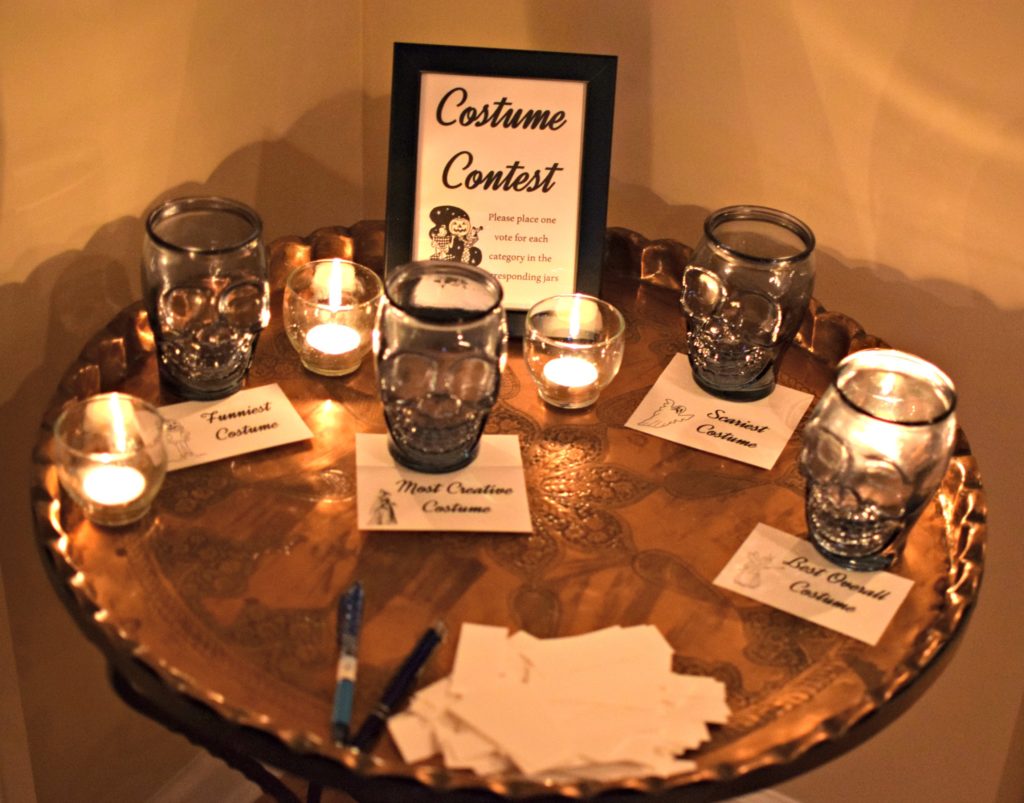 Everyone loves a little friendly competition with a costume contest at this Halloween party.  These skull jars were perfect for voting on the categories of best overall, scariest, most creative, and funniest costume. When you see the costumes, I bet you will know which costume got quite a few votes!
Photo Wall
With so many great costumes  you need a place to take photos as a Halloween party. This skull fabric was so much fun as the back drop but looking at the photos, it may have been a bit too busy since it was so contrasting with the black and white. I love how the skulls fit with my Halloween style but still on the demure side.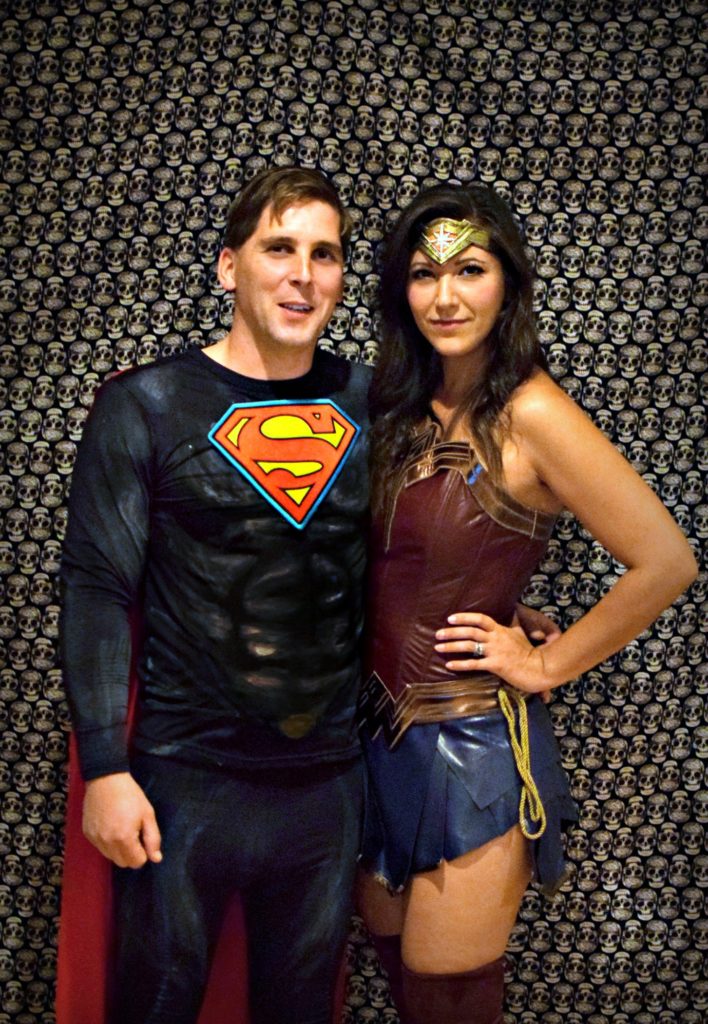 Here's a photo of my husband and I. I love he decided to go with a superhero costume with me. I did buy everything for my costume but made everything for his Superman Costume since I hated the stuffed muscle one at the store. This DIY superhero costume was made by first buying a pair of those athletic like matching shirt and leggings in Navy. I then sewed on red fabric for the cape and painted on the costume details that I saw from the newest superman movies. The finishing touch was the Superman emblem from Amazon that I put on with a hot glue gun. Just be sure to put a piece of cardboard in between so you don't glue the front to the back. The paint I used for the details was acrylic paint half mixed with fabric medium to keep it pliable and from cracking.  Spray painting some old rain boots red completed the costume.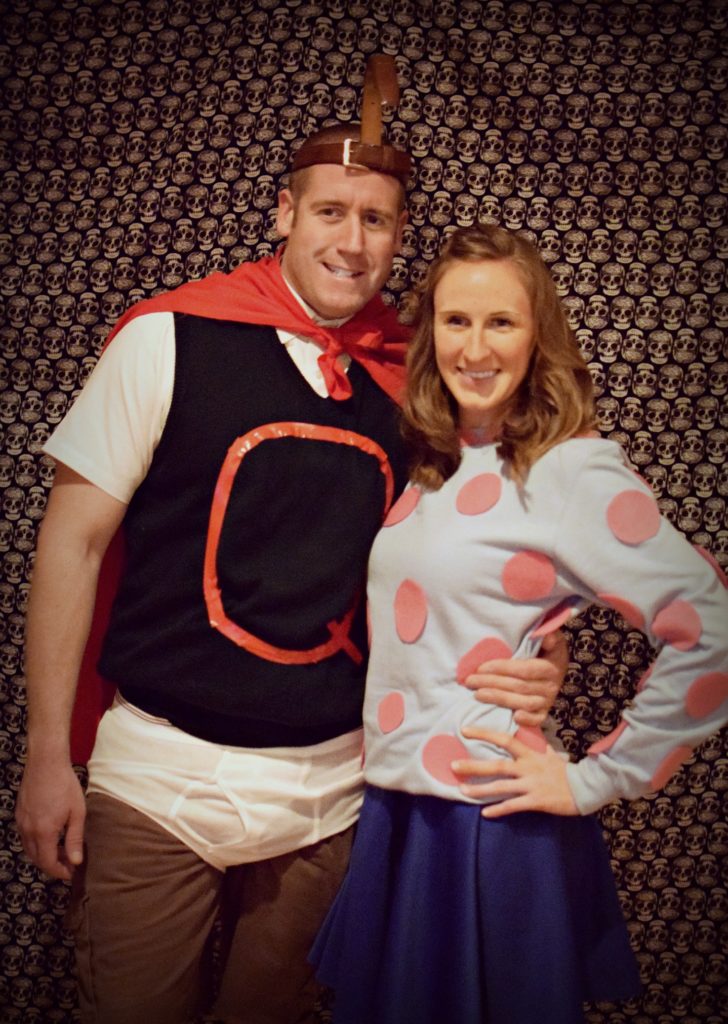 The wonderful hosts of the evening! What amazing DIY costumes as Quail Man and Patty Mayonnaise from the cartoon Doug!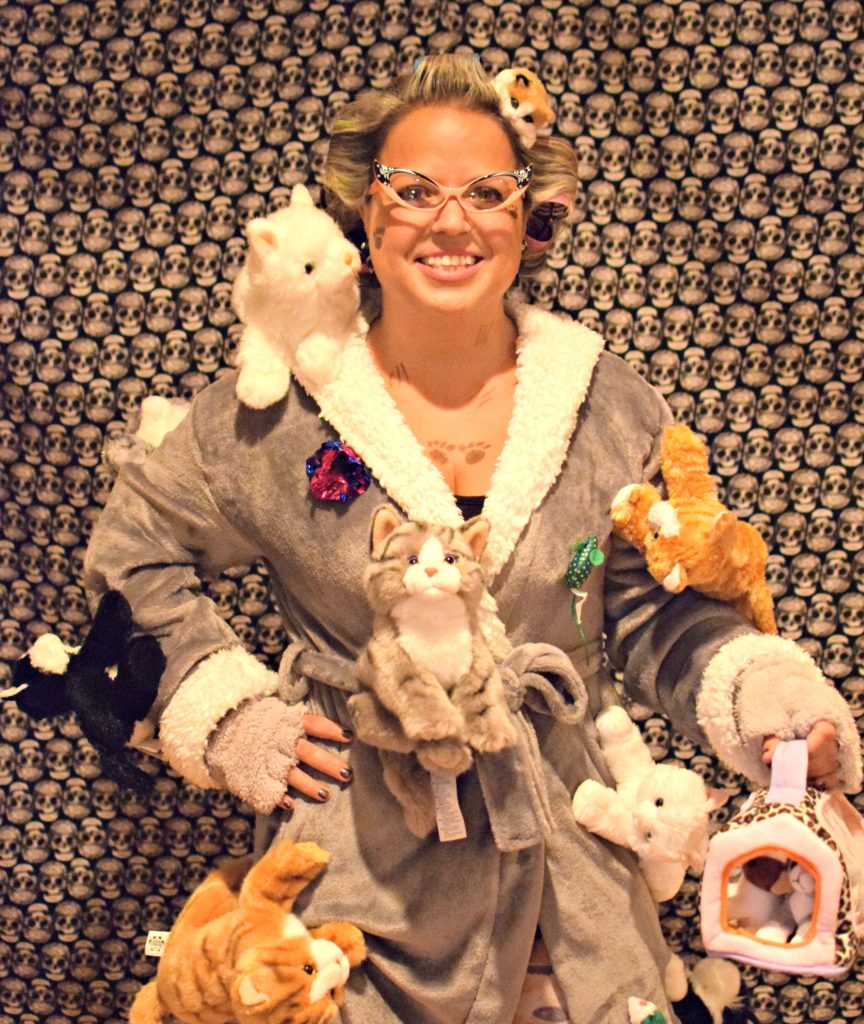 It's no surprise this crazy cat lady costume was such a hit and did so well in the costume contest!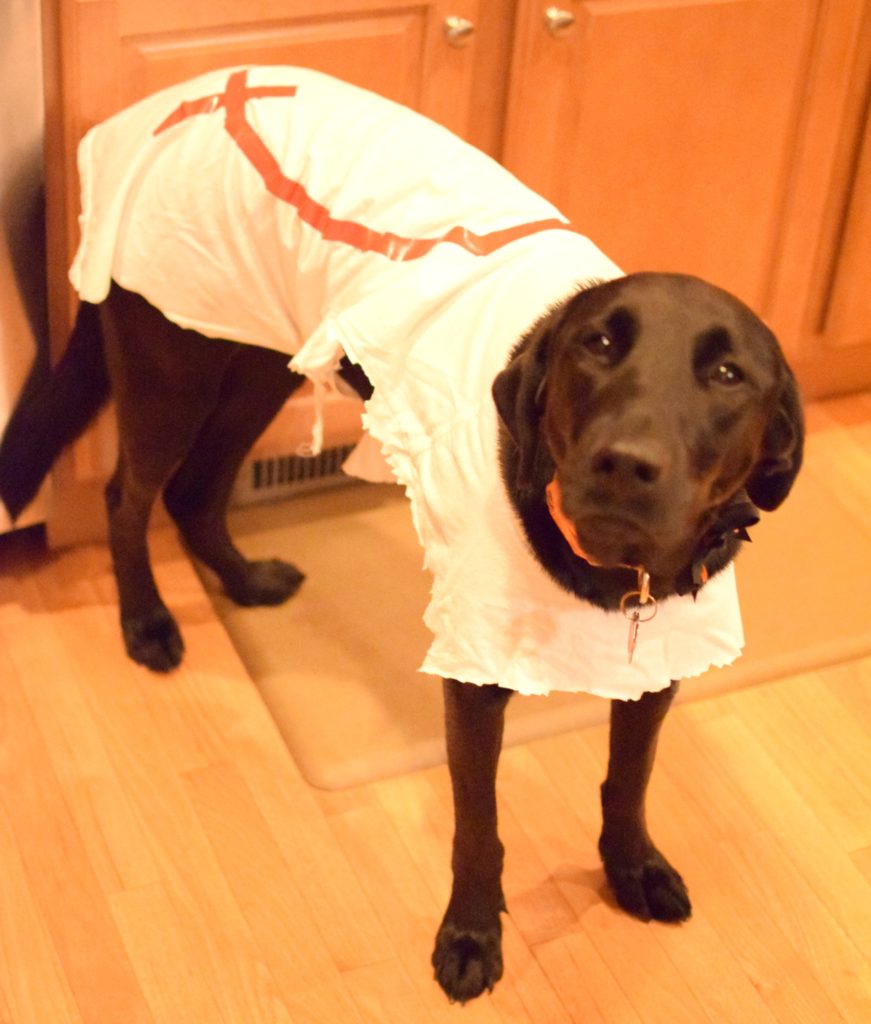 And you can't forget Quail Dog!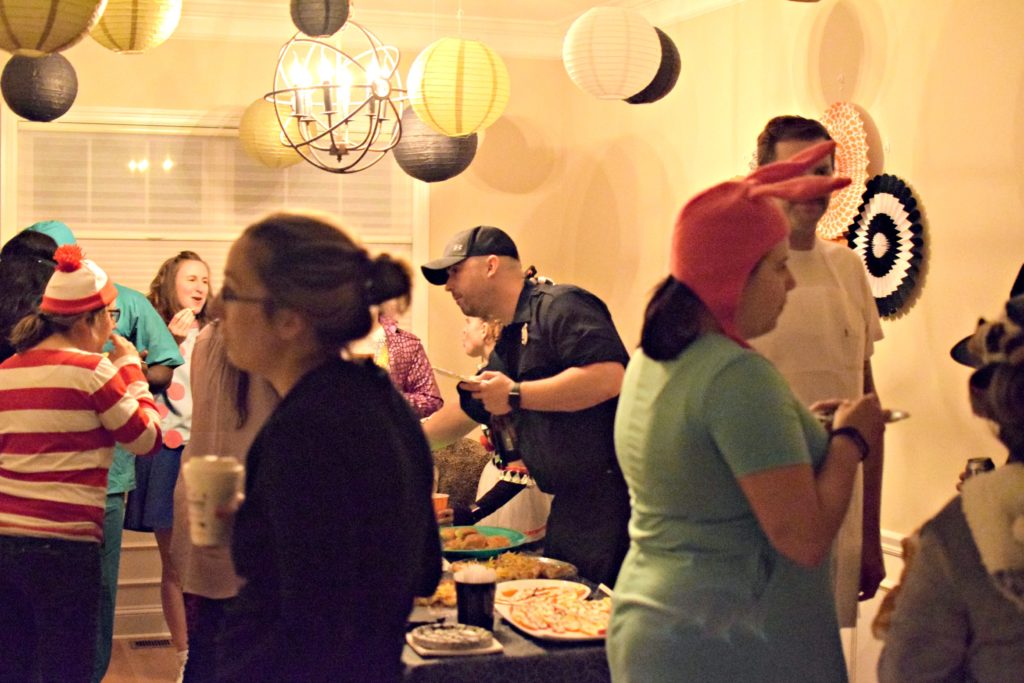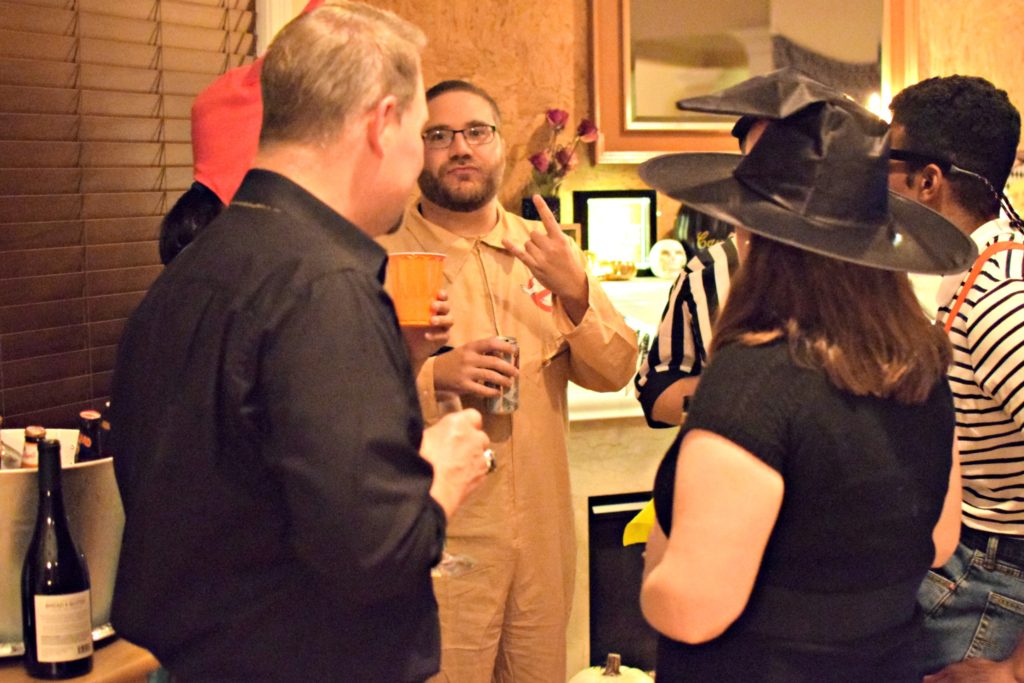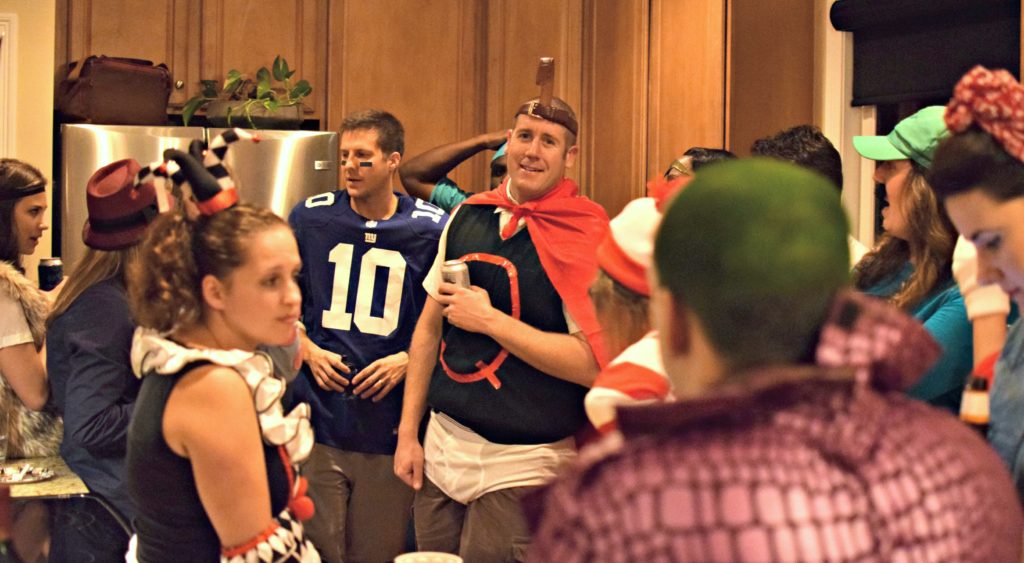 There were so many amazing costumes! We had such a great time and I had so much fun helping with these decorations for this Halloween Party, thanks again to the lovely hosts! I hope everyone has a great Halloween!
-Ashley