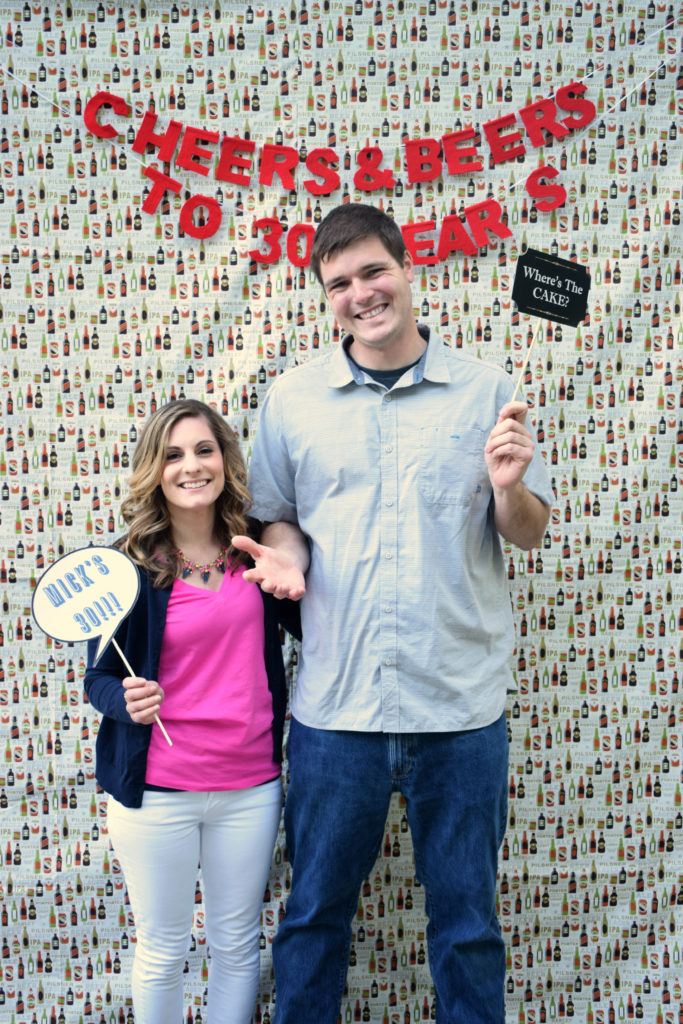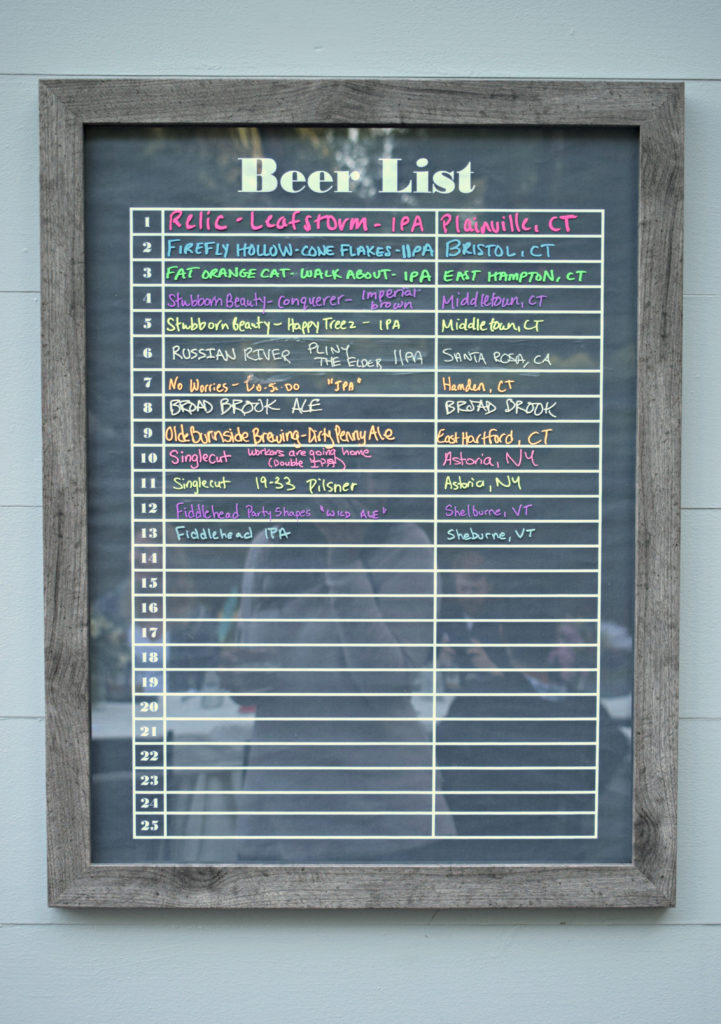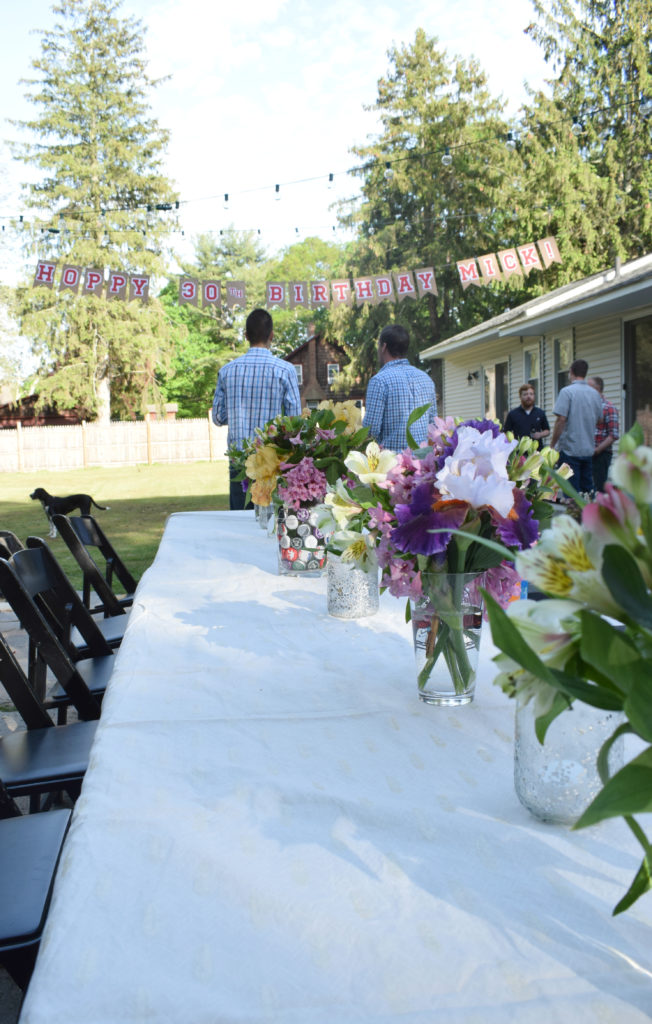 These past weekends I was able to celebrate many amazing birthdays, but right now I want to share this 30th birthday backyard beer tasting party with you. This beer tasting party was to celebrate our wonderfully kind and thoughtful friend Mick turning thirty. With all these local breweries popping up what better way then asking guests to bring a growler of their favorite local beer. This party we had guests that were widespread in location, so it was great trying beers from breweries you may not get to try. I also made free printables at the bottom of this post so you can have your own backyard beer tasting party. Thanks to the help of my co-hosts, another couple and Mick's girlfriend, I think we pulled off a pretty great  surprise party.
 Beer Tastings
Tasting Directions for Guests
As part of my free printables (at the end of this post) there are directions to print for a 8×10″ frame telling guests how to participate in the beer tastings. Guests are to write the information of the brewery and beer on the beer list board with a chalk board marker. Then write the corresponding number from the beer list on the cap of their growler with a sharpie and place the growler on ice. Its a good idea to provide stickers for guests with personalized growlers or whose caps are already written on. Then  make yourself a flight and label the numbers or names on your flight with a chalk board marker. I have another free printable for beer rating cards and placed these in each flight with a pen. This allows guests to rate and have conversations about how they rated each beer and bring the information home with them to remember for future purchases.

Beer Flights
Beer flights were made by a friend by cutting a 1×4′ piece of wood in sections and then drilling the shallow  hole for the glasses. I then sanded and primed these flights and painted two coats of chalkboard paint. Using Chalk markers from Amazon, Blami Arts Chalk Markers for Kids & Artists Extra GOLD and SILVER Ink Pens 12 Bright Vibrant Liquid chalk paint – reversible Bullet & Chisel Fine Tip Free Your Imagination with Chalkboard Marker Now!
  were easy to write out the persons desired choices but I think the chalk marker would erase more easily if they were just black with a high gloss clear coat over it. Cut up sponges in water was also supplied for erasing and getting second rounds. The glasses,Anchor Hocking Heavy-Base 5-Ounce Juice Glasses, Set of 12
 were the perfect size and inexpensive. If you don't want to go through making flights you can simply put out pint glasses and place the beer rating cards and pen in the glass.
Beer List
The beer list board was easy to make and you can get the free printables for this at the bottom of this post. There is the option for a white background or black if you would like it to look like a chalk board. The printable is meant to print large as an 18×24″ print, that can be printed inexpensively at Staples if you print it as a colored engineer print. I then simply placed the print behind the glass/plastic of the frame. This made it easy to wash off the chalk markers. If you do not want place in a frame you can print the white printable on a regular sheet of paper and use pens to fill in the beers, it will just be smaller lines to write on. To hang the frame temporarily I used frame command strips to not damage any paint or walls.
Photo Backdrop and Table Cloth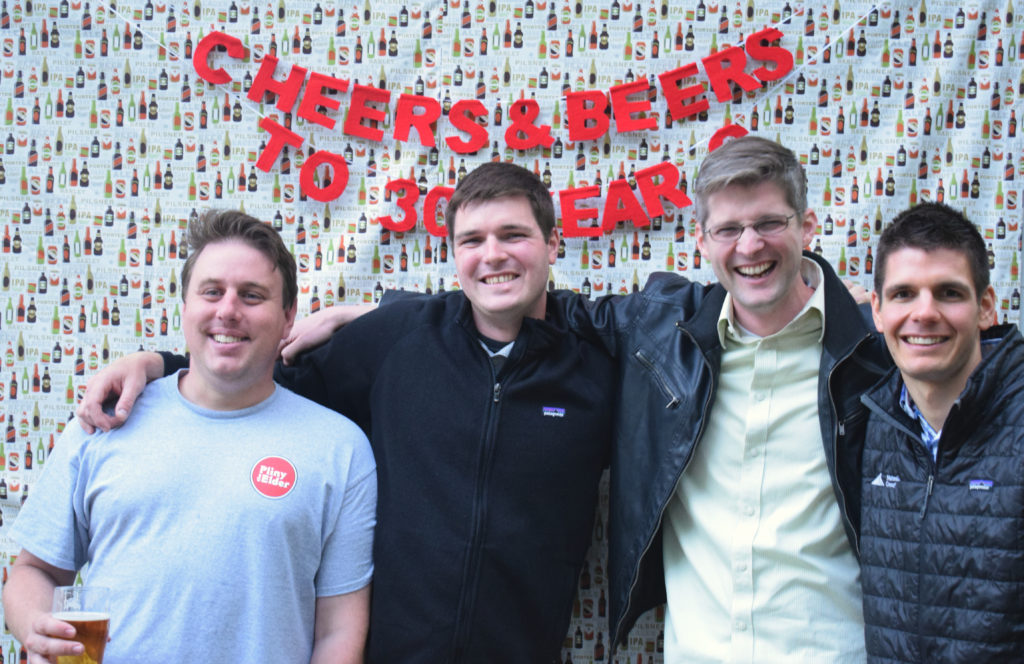 Having touches like beer printed fabric ties in the theme and keeps things fun. With such a big birthday it's always great to have somewhere for people to take nice photos and commemorate the event. This fabric backdrop was made with two pieces of 3 yard lengths of fabric sewn side by side with loops at the top to hang with temporary command hooks. I bought both printed fabric for this and the table cloth at Joann fabrics, and you can also find great beer themed novelty fabric at
 . The banner across the fabric was cut out of felt doubled over and glued to hang on a thin ribbon.
Other Party Details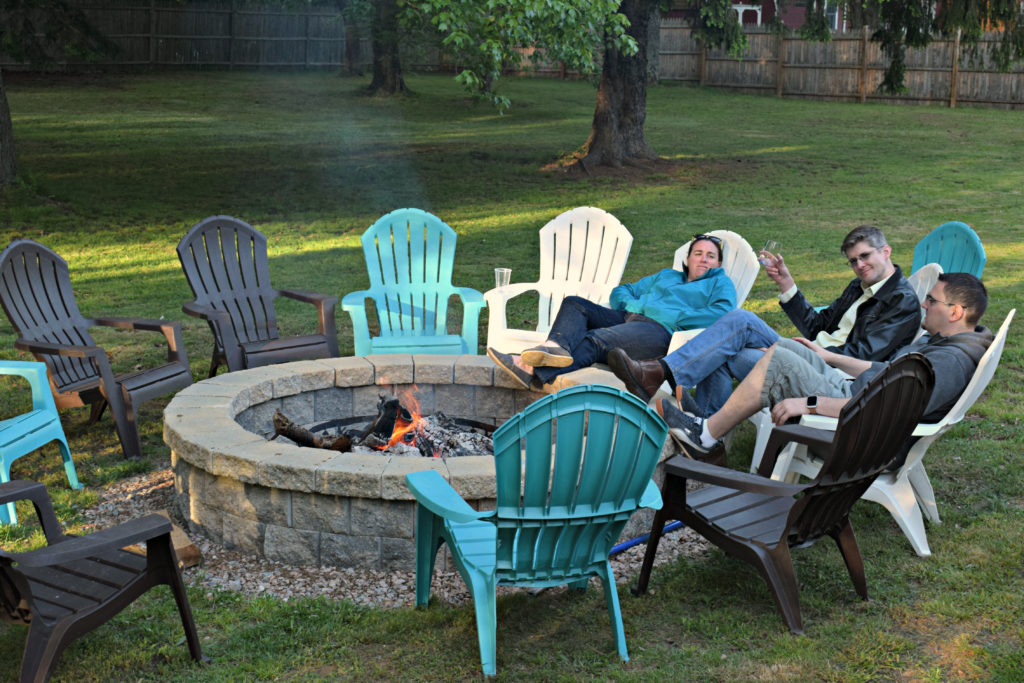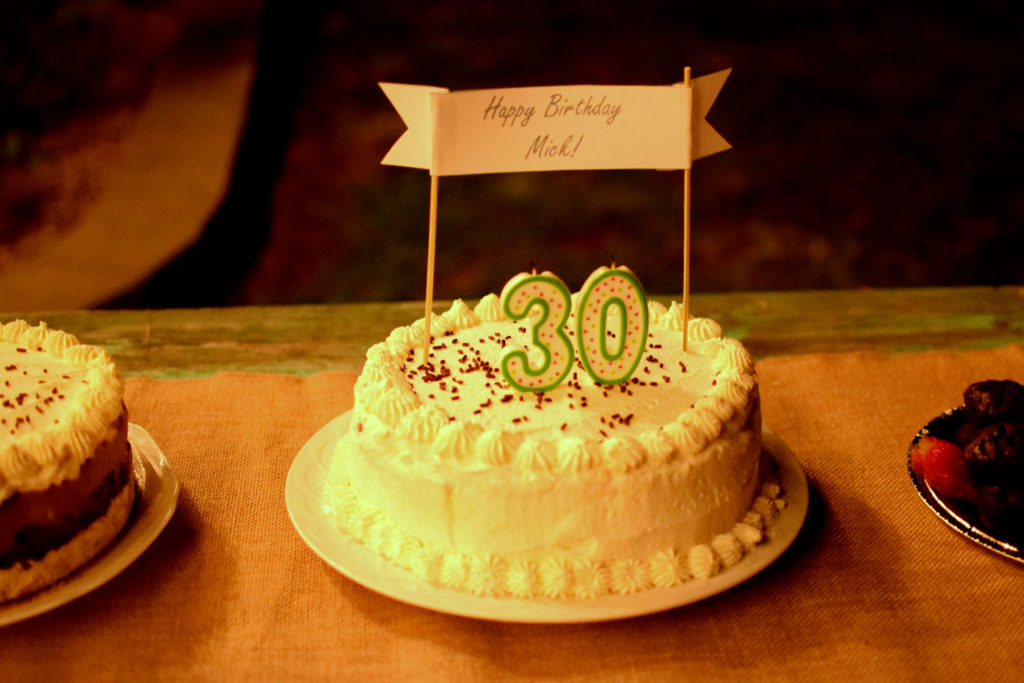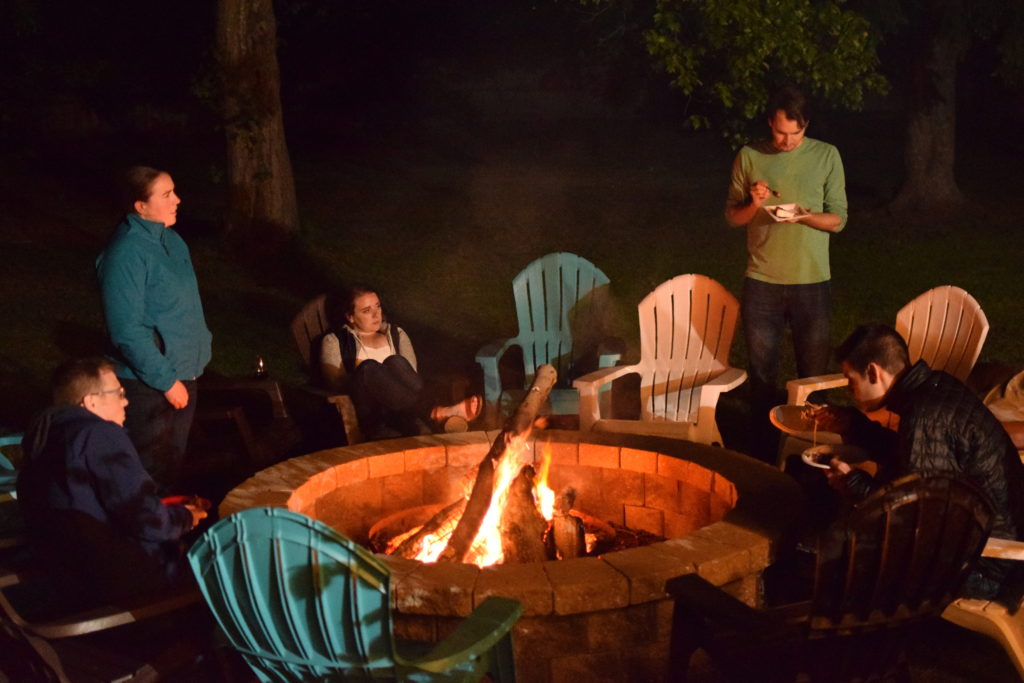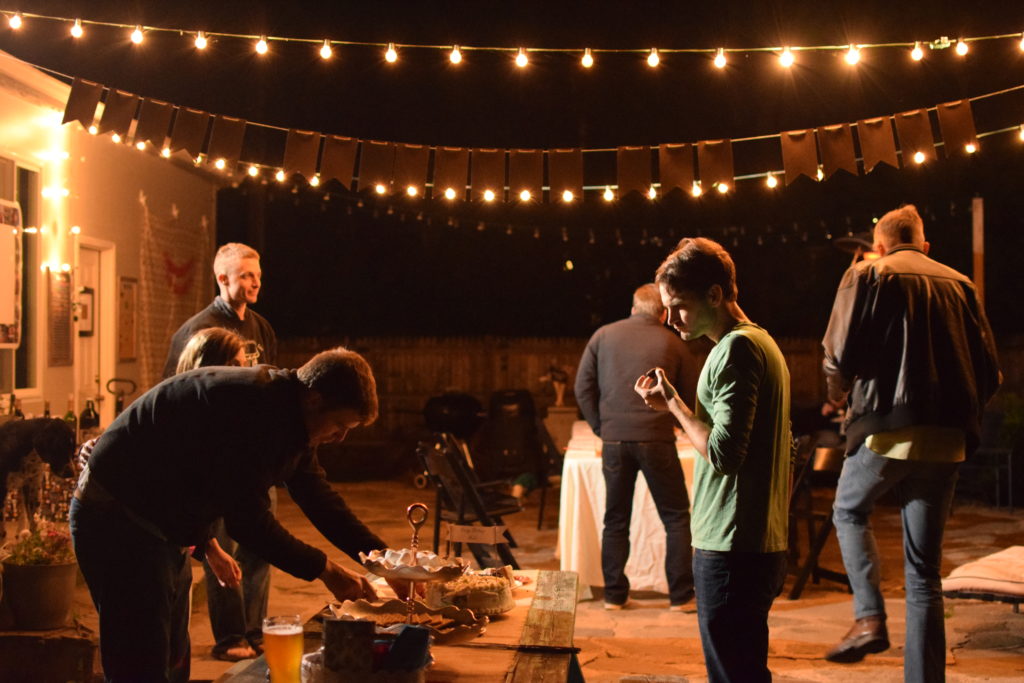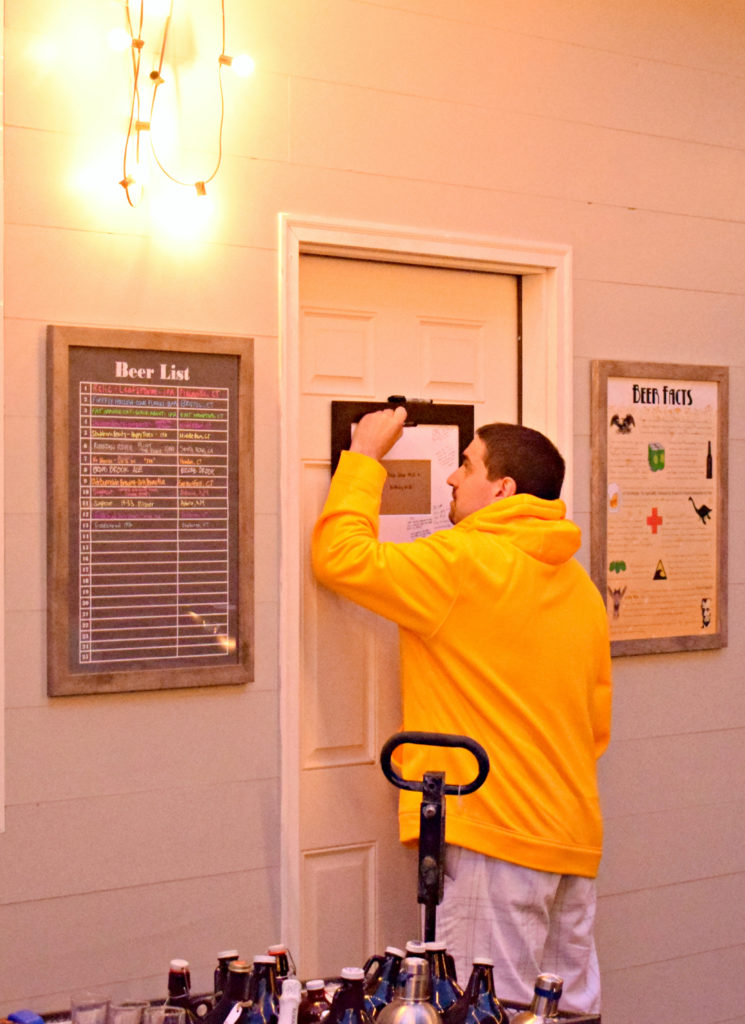 In addition to all things needed for our beer tasting there were also a few extra birthday and beer related touches. We had a few vases of flower that were lined with beer caps, you can either glue caps to the outside of a dollar store vase with a glue gun or if you have the right sized vases that's a about an inch smaller in width then another you can put the smaller inside the larger and place the caps in between the glasses.  I also used pint glasses from other breweries that you often get free at tastings to put other flowers in to keep with the theme. There was also a large matted frame for people to sign and write little notes for memories, and a large Hoppy Birthday Banner.
Make Ahead Crockpot Slider Menu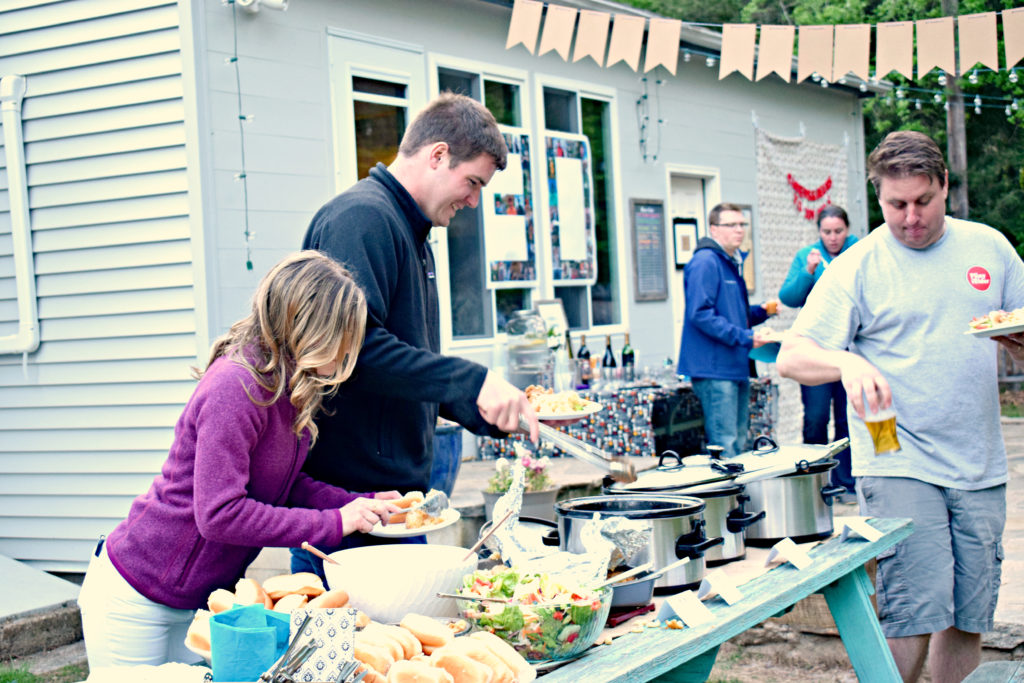 No one wants to cook during a party so things that can be made in advance is always great. This menu consisted of a few easy but hardy that were made earlier and kept warm in a crockpot or popped in the oven to warm making it easy to put out and enjoy the party with your guests. We placed food on a long table making everything accessible from both sides to help people create their plates faster and more easily.
Sausage Pepper and Onions Sliders – Place the desired amount of sausage in a cooking sprayed crockpot and cook on low for about 5hrs with about 1/2 cup of water in the bottom. After they are cooked remove sausage, drain water and slice sausage in bite sized slices. While slicing the sausage add sliced of peppers and onions with a little salt and pepper to the crockpot and cook on high for about 20min, it cooks down a good amount so you may need more then you think. Add sausage back in and place on warm until ready to serve with buns.
BBQ Chicken Sliders – Place the desired amount of chicken breast and/or boneless thighs into a cooking sprayed crockpot. Chicken thighs are less likely to dry out then breast and less expensive, I like to mix both. Add a good amount of your favorite BBQ sauce but not that its drowning to the crockpot and cook on low for 5-6 hrs. After cooking  remove most liquid that you can from the crockpot and shred the chicken with two forks. Once chicken is shredded add back to the crockpot on warm with additional BBQ sauce to coat. I find it can create a lot of liquid and make sauce a little to runny, so its good to add a tablespoon of cornstarch mixed with 2-3 tablespoons of cold water to the crockpot to thicken. Serve with buns and blue cheese dressing.
Cheese Steak Sliders – Place a chuck roast appropriate to the amount of people your serving in a crockpot and adding salt and pepper to the meat. You can brown it or not its up to you, depending on how much time you have. Add about a cup of beef stock and cook for 8-10 hrs on low. Once the beef is cooked remove from the crockpot, drain liquid and add sliced peppers and onions to the crockpot and cook on high for about 20 mins while you shred the beef. Add beef back to the crockpot with peppers and onions and place on warm until serving. Serve with buns and slices of cheese.
Mac and Cheese – Any mac and cheese recipe will do that you can make ahead, refrigerate and pop in the oven before serving. This recipe from Martha Stewart is my go to mac and cheese recipe. You can use pre-shredded cheese to save time and money depending on the cheese you use. I like to add garlic and sometimes some red pepper flakes to mine for a little spice depending on the guests.
Green Salad – Any green salad is great or you can always get a salad kit from your grocery store.
Cole Slaw – Again I'm a fan of easy, so I bought a Dole cole slaw kit that comes with everything shredded and the dressing. It pretty good and can't get any easier.
Free Printables

These printables are free for your personal use for  your own backyard beer tasting party. These printables consist of food label cards that can be filled out on your computer then printed or you can print and hand write the food items, with four printed to one page and I recommend you print them on card stock or thicker paper. There are also beer rating cards that print four to a page and recommend printing on heavier paper as well. Also, there is a Beer Facts print for guests to read and have fun facts to talk about. It is best printed 18×24″ at Staples and is most cost effective printing as an engineer print for a few dollars. Lastly there are Beer List printables that come with two pages in each color. The first page going to 24 beers and the second to 48. You can choose to use the white to write on with a normal pen or marker or place the dark grey one in a frame behind glass/plastic to write on with chalk markers. I suggest again printing these as 18×24″ engineer prints at Staples inexpensively but can be printed on normal sheets of paper but will be smaller to write on. Simply enter your email below to be sent these free printables.
I hope you enjoyed reading about this fun 3oth birthday party. It's perfect to celebrate that beer lover in your life or if you just want an excuse to have a party and try different kinds of beer. With the weather getting warmer its always great to hang outside with a cold drink. Stay tuned with more to come from other parties including a carnival themed kids birthday.
-Ashley
This post contains affiliate links, which means that if you visit fabric.com through this link and purchase something, I'll get a small commission. Items from this post I have purchased from this site and recommend them based on my personal experiences.